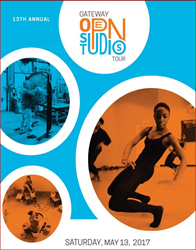 Don't miss a chance to see more than 140 Artist Along the Gateway Arts District
North Brentwood, MD (PRWEB) May 11, 2017
Gateway CDC hosts the 13th Annual Gateway Open Studios Tour on Saturday, May 13, from 12-5pm, in Prince George's County, from Mount Rainier to Hyattsville, Maryland. Guests are invited to participate in an afternoon of discovering art, meeting artists, and exploring the studios where they work. A full list of participating artists, locations, and schedule of activities may be found at http://www.gatewayopenstudios.org. An After Party follows the self-guided tour, at the 39th Street Gallery at the Gateway Arts Center in Brentwood from 5-8pm. Maps and other materials can be picked up at the Media Arts Lab, at 3311 Rhode Island Ave., in Mount Rainier, MD, or The Brentwood Arts Exchange at Gateway Arts Center, at 3901 Rhode Island Ave., Brentwood, Maryland.
Over 140 artists, studios, galleries, and cultural centers participate in this one-day arts festival, which attracts hundreds of people each year to explore creative spaces throughout the Gateway Arts District near and along the Route 1 Corridor, Rhode Island Avenue. Hosted by Gateway Community Development Corporation (CDC) in partnership with local artists, organizations, and municipalities, this event is free, and is the largest of its kind in the DMV Metro area.
"Each year, Gateway Open Studios is a great way to showcase the wealth of talent in our community", says Pat Thornton, Executive Director of the Gateway CDC. "We are so excited to continue this community tradition into its 13th year!" On May 13, attendees are invited to tour the spaces, meet the artists, and enjoy a behind-the scenes experience that showcases the range of artists, businesses, and diversity within our community. There will be live demonstrations, performances, youth-friendly activities, and all are welcome to attend.
Over 20 locations will be open for the tour including 39th Street Gallery and Studios, Adinkra Cultural Arts Studio, Blue Door Studios, Brentwood Arts Exchange, Brewer's Arcade, ezStorage Studios, Gateway Media Arts Lab, Joe Hicks Ceramics, Joe's Movement Emporium, Mount Rainier Artist Lofts, Orange Door Studios, Otis Street Arts Project, Prince George's African American Cultural Center, Pyramid Atlantic Art Center, ReCreative Spaces, Red Dirt Studio, White Point Studio, and many more. Select businesses will also be offering day-of deals.
Throughout the afternoon, guests can attend interactive demonstrations and workshops including a live mural painting by Rose Jaffe at Red Dirt Studio, metal working at Forged Metal Studios, and acting technique at viaJ Studios in Hyattsville. Featured galleries to view include '"Colored Folks" We Come in Every Shade' by Normon Greene at Joe's Movement Emporium, a pop-up showcase by Hyattsville Community Arts Council at ezStorage Studios in Brentwood, "Chocolate Cities" curated by Martina Dodd at Prince George's African American Museum & Cultural Center, and "Studio View", a retrospective of Joanna Campbell Blake's work at 39th Street Gallery.
About the Gateway CDC:
Gateway Community Development Corporation drives economic revitalization along the U.S. Route 1 Corridor through business and neighborhood development initiatives including promotion of the arts as a community building strategy. Gateway CDC works within the communities of Brentwood, North Brentwood and Mount Rainier, MD and in collaboration with multiple partners to ensure the success of the entire Gateway Arts District. Gateway CDC is a 501c3 non-profit organization located in North Brentwood, Prince George's County, Maryland.
The Open Studios Tour promises to be the largest Arts tour in the Washington, DC Metro Area
# # #