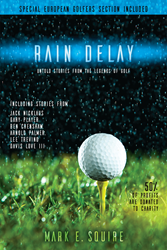 The funds raised through the sales of the book will help young people realize their full potential.
(PRWEB) May 12, 2017
Sometimes all it takes is a short encounter to change a life. Two years ago, Mark Squire met with Elevate Phoenix's Board Chairman, Tom Lehman, and learned all about Elevate Phoenix, a nonprofit organization that assists nearly 5,000 at-risk, urban youth through its unique, relationship-based approach each year. When Mark went to see The Program in Action, he knew he had to do his part in partnering to make a difference in any way he could. During his visit, he was touched and inspired by the transformation of every student he met that day. It was then that Mark decided he would use his gifts and talents to give back to something that grabbed his heart. Tom worked with Mark and Rain Delay Productions, LLC and the beauty that transpired was more than Elevate Phoenix ever could have imagined. We are pleased to announce the release of Mark's powerful book, "Rain Delay – Untold Stories from the Legends of Golf."
The book contains stories from more than 20 Legends of Golf, including Jack Nicklaus, Gary Player, Tom Lehman, Ben Crenshaw, Arnold Palmer, and Lee Trevino. Each one has his own chapter in the book, which is something that never has been published before. The stories they tell are highly entertaining and include funny stories from the green to life-changing situations. Each individual offers up a new and different perspective on the realities of being a professional golfer. It was such an honor to see Mark's face light up whenever he updated Elevate Phoenix about the latest story he planned to include in the book. Elevate and Mark knows that everyone who reads this book will enjoy every story and will be inspired by their remarkable journeys.
Best of all, Rain Delay Productions, LLC, is donating $6.50 of every book sold to Elevate Phoenix! Tom Lehman, other Elevate Phoenix Board members, business professions, foundations, corporations and many other individuals have been supporting the work of Elevate Phoenix for many years. The funds raised through the sales of the book will help young people realize their full potential. The annual cost of Elevate Phoenix's life-transforming programs per student is just $222.00, which is equal to the sale of 35 copies of the book.
The photographer, Mark Squire, is hoping to raise $1 million through the book sales, which is enough to support the students at two of Elevate Phoenix's partner schools for an entire year. He knows this will make a positive impact on the kids being helped and transformed through Elevate Phoenix. You can help be a part of the big vision and support a dream that will impact over 5,000 lives.
Please help Elevate and support Mark's vision by ordering a copy today. Don't forget that Father's Day is just around the corner. Rain Delay would make a perfect gift for Dad. It also would make a great corporate gift to give to clients as a thank you for their business or taking part in a golf event. Rain Delay retails for only $19.95. Go to http://www.untoldgolfstories.com to purchase a copy today.
Thank you for your support,
Elevate Phoenix
About Mike Squire
Born and raised in England, Mark spent 16 years building his photography business in Phoenix, Arizona. His work is extremely varied, with a large corporate client list including companies such as Land Rover and Jaguar, Lamborghini, Daimler Chrysler and Aston Martin. He has photographed high-end realty and commercial properties, as well as products ranging from jewelry to golf clubs and commercial products. Mark's work has been featured in Architectural Digest, Road and Track, Car Magazine and Golf Magazine as well as other European- and U.S.-based print media.
To learn more about Elevate Phoenix and how you can get involved, visit: http://www.ElevatePhoenix.org.
About Elevate Phoenix
Elevate Phoenix is a unique program for Arizona youth. Together with urban public schools and communities we strengthen character, empower knowledge and elevate relationships. Our success is measured by the success of our kids. The Elevate Phoenix curriculum is designed to teach character, life skills, and leadership to urban students. The heart of our success is the work of our team of full-time, primarily ethnic staff who serve as teachers, mentors, and life coaches to students over multiple years. Teacher-mentors are available to students 24/7. Office: 3750 W. Indian School Rd. Phoenix, AZ 85019 Phone: 602-532-4873 Website: http://www.elevatephoenix.org.