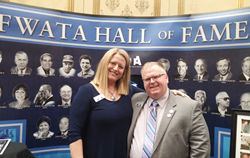 I cannot express what an amazing and emotional moment this was for me and my family. Thinking about the moment Bill put the Hall of Fame ring on my finger still chokes me up.
Las Vegas, NV (PRWEB) May 12, 2017
This year's convention attendance reached over a thousand, which includes registered attendees, guest and exhibitors, setting a new record for the FWATA Annual Meeting and Clinical Symposium. With a variety of events, including EBP educational sessions, feature presentation labs, NATA workshops, student sessions, meetings, and social gatherings, FWATA offered something for everyone.
Saturday, April 29, 2017 was "FWATA Hall of Fame Day". The day started with the Hall of Fame Breakfast where eleven HOF members joined to welcome Carolyn Peters to this prestigious group of FWATA members. "FWATA Hall of Fame Day" concluded with the 2017 Awards Banquet. During the banquet, over 500 attendees enjoyed a delicious dinner while the 25 year members, 50+ year members, FWATA Student Scholarships and Research & Grants Awardees were recognized.
The FWATA Honors & Awards Special Recognition Awards were awarded to Ginger Lei Salera Ehrke, LAT, ATC and Ruem Malasarn, MA, ATC. Presenter Todd Hamburg had this to say about Ginger: "Ginger Lei Ehrke is one of the hardest working individuals I have been around. She has worked tirelessly to help to promote the profession of athletic training. I have been fortunate enough to work beside her in a number of settings and it is a pleasure to call her my colleague and my friend." Kris Boyle-Walker presented the award to Ruem and commented "Ruem has taken the Annual Meeting & Clinical Symposium to the next level providing attendees with a meaningful educational opportunity as well as, a memorable positive experience. His work on behalf of the FWATA Convention Committee has been tireless and his impact far reaching."
The evening continued with Kris Boyle-Walker presenting Kavin Tsang, PhD, ATC, FWATA's Most Distinguished Athletic Trainer Award. "Kavin's service to FWATA has been extensive and he has represented FWATA on the District and National level with integrity and distinction," Kris said. "I respect and admire Kavin tremendously. He is a very humble man and serves his profession and professional organization as he feels it is his duty as a member." "My sincerest mahalo to everyone in D8 for the MDAT recognition. It is truly an honor to serve and represent our membership; I hope to continue with this privilege as we move forward as a district in advancing and promoting our profession. Aloha" states Kavin.
The highlight of the evening was the 2017 Hall of Fame Induction of Carolyn Peters. Carolyn Greer presented Ms. Peters the award after viewing an induction video. HOF Carolyn Greer said "I was honored to present Carolyn Peters with the FWATA Hall of Fame award. Her selfless commitment to the NATA and FWATA is unparalleled. In addition, her daily commitment to excellence in her work and personal life exemplify the basis for the award." Carolyn Peters' induction to the Hall of Fame was emotional, heartwarming and well deserved. Hall of Famer Peters said "I cannot express what an amazing and emotional moment this was for me and my family. Thinking about the moment Bill put the Hall of Fame ring on my finger still chokes me up. I wear it and share Bill's thoughts, 'it's a career, not an event.' Thanks again to the members and volunteers for attending and arranging a most memorable evening."
Thank you to all of our on-site convention volunteers for making this year's Annual Meeting and Clinical Symposium a success! This event would not be possible without each of you and your willingness to donate your time and efforts. We had over 75 onsite volunteers and session moderators assist the Convention Committee in preparations and daily operations during convention week, many of whom signed up for multiple shifts. We would like to thank Dennis Goebel, his staff and the tee, title and tournament sponsors who successfully raised $13,832.46 during the FWATA Annual Student Scholarship Golf Tournament.
For more information please visit http://www.fwatad8.org