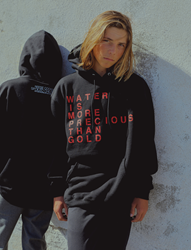 REESE COOPER launches WATER IS MORE PRECIOUS THAN GOLD in conjunction with FlintKids.org to remind Americans of the ongoing effects of the Flint Water crisis.
Los Angeles, CA; Flint, Michigan; London, UK (PRWEB) May 12, 2017
Millennial creative, Reese Cooper, today launches a community project in conjunction with his brand, Reese Cooper Spoiled Children, to benefit the Flint Child Health & Development Fund (better known as FlintKids.org) in order to keep the Flint, Michigan water crisis top of mind.
"WATER IS MORE PRECIOUS THAN GOLD" is a project designed to remind Americans that although it has been more than three years since the Flint water crisis began, residents and their children are still denied access to clean drinking water. 
On May 14, 2017, REESE COOPER® will release a hoodie to benefit the Flint Child Health & Development Fund, served by the Community Foundation of Greater Flint. The aim of FlintKids.org is to provide medical resources and other support programs to fight the effects of lead poisoning of the children of the city of Flint, Michigan. The profits of this special project go directly to the Flint Child Health & Development Fund.
When asked why he created this project just months after his debut collection, Reese said, "I'm a kid who makes clothes, and I thought in some way I could help or at least let the families of Flint know they are not forgotten and I care—a lot of us care. Not once growing up did I hesitate to drink a glass of water in my own home. Not once did my mom have to decide if she could afford to buy bottled water rather than run the tap. My hoodie project is small. I know that—I hope to do much more. I admire those who can create big change. But for now, this is how I can contribute and I know I can help in Flint, Michigan. Every kid deserves safe water—it's their right."
Imagery for WATER IS MORE PRECIOUS THAN GOLD was shot by Kai Z Feng. The hoodies are available for sale at http://www.reese-cooper.com/ from May 14, 2017.
###
About Reese Cooper
Originally from Atlanta, Georgia, Reese Cooper grew up in Southwest London. At only 19 he is already known as a social media influencer, event curator, and fashion designer. Reese is highly regarded within the fashion industry by many worldwide brands and publications. In late 2016 he released his namesake brand and debut collection, Spoiled Children®. Reese has a strong sense of community and is passionate about bringing young, influential creatives together and seeing what new and inspiring things can be born out of those interactions—thereby fostering a greater sense of community. Reese currently resides between London and Los Angeles.
About Flint Child Health & Development Fund
The Flint Child Health & Development Fund serves the long-term health and development needs of Flint children exposed to lead as a result of the Flint Water Crisis. The Fund will complement state and federal funding to support children and their families with interventions that ensure stronger likelihood of positive developmental outcomes, such as: early childhood education, continuous access to a pediatric medical home, nutrition education and improved access to healthy food, access to infant and child behavioral health services, integrated social services, safe and healthy home environments, and assessments of interventions. Priority is given to proposals that benefit the most developmentally vulnerable ages of 0 – 6.