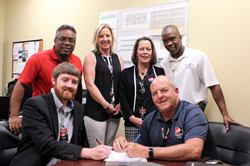 The student experience is designed to mirror best practices within the aviation industry, and the Preferred Hiring Pathway will give individuals an even greater ability to prepare for their desired careers while at NAA
Concord, Mass. (PRWEB) May 12, 2017
National Aviation Academy (NAA) and Cape Air today announce the implementation of a Preferred Hiring Pathway designed to give NAA graduates priority access to new-hire technician positions.
The Preferred Hiring Pathway is intended to assist NAA and Cape Air in the selection, training and education of potential new-hire aviation maintenance technicians (AMTs).
AMTs keep aircraft in safe flying condition by servicing, repairing and overhauling aircraft and aircraft components while following detailed federal regulations set by the Federal Aviation Administration (FAA). AMTs are in high demand as the industry expands and technicians age out of the aviation workforce.
Technicians selected for Cape Air's Preferred Hiring Path program will be of the highest quality, demonstrating the skills, knowledge, personal and professional qualifications to perform as an airline maintenance member. Students from both NAA locations (New England and Tampa Bay) may apply.
Candidates who wish to participate in the Preferred Hiring Pathway must:

Complete the General section of approved Part 147 core curriculum with a grade average of 90% or higher
Submit a completed application
Submit two character references
Pass the Cape Air interview process
Students who are successfully admitted to the program will have the opportunity to enhance their personal and professional growth by attending job shadowing events at Cape Air maintenance bases in Hyannis and Boston while attending NAA.
"We're excited to team up with National Aviation Academy on the Preferred Pathway program," said Jeff Schafer, Managing Director of Technical Operations for Cape Air. "Establishing a partnership such as this will provide tremendous opportunities for Cape Air, NAA and most importantly, the students."
After the successful completion of NAA's combined airframe and powerplant curriculum, candidates within the Preferred Hiring Pathway may qualify for a final interview for employment. Hiring from the pathway will assist Cape Air in meeting the demand for qualified aviation maintenance technicians.
"Any opportunity that benefits NAA students and an industry partner like Cape Air is one that we want to approach with enthusiasm and dedication," said David Mead, Senior Executive Vice President for NAA. "The student experience is designed to mirror best practices within the aviation industry, and the Preferred Hiring Pathway will give individuals an even greater ability to prepare for their desired careers while at NAA."
NAA incorporates the latest technology and industry resources to deliver high quality aviation maintenance training. Partnering with Cape Air will strengthen NAA's ability to achieve its mission of preparing students for employment in the aviation industry.
About National Aviation Academy:
National Aviation Academy (NAA) has been training aviation maintenance professionals since 1932. Dedicated to building a quality aviation maintenance workforce, NAA offers training in Aviation Maintenance and Advanced Aircraft Systems. A worldwide reputation has been cultivated through the use of innovative curriculum, hands-on training and a forward-thinking sensibility. Students gain industry knowledge and exceptional skills by engaging with faculty who have years of experience across all maintenance levels. Companies that hire NAA graduates offer long-term and viable careers with great earning and growth potential. NAA trains individuals from across the globe at campuses located in Clearwater, Fla. and Concord, Mass. For more information, call (800) 659-2080 or visit http://naa.edu.
# # #