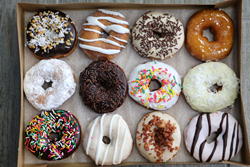 The city of Alpharetta replicates our company's family-friendly environment, and we are thrilled to plant deeper roots in the Peach State. With each new franchise location, Duck Donuts welcomes 25-40 new jobs to the community.
Mechanicsburg, Pennsylvania (PRWEB) May 15, 2017
Duck Donuts is expanding to the Atlanta suburb of Alpharetta, Georgia, according to Russ DiGilio, founder and owner of Duck Donuts Franchising Company LLC.
Franchise owner Youn Hee Lee plans to open on May 19, at 3005 Old Alabama Road, Suite 170, Alpharetta, five minutes from North Point Mall. The 1,300 square-foot shop will reflect the franchise's iconic beach theme and offer select retail items in-store.
"While I was making plans to relocate and retire, I decided instead to shift careers and start a small business venture with my children. My son suggested Duck Donuts, and after visiting various Virginia locations, we decided it would be a great business opportunity," says Lee. "The donuts were as delicious as my son described, and I love seeing the memories made among families when visiting Duck Donuts. As a grandmother, I wanted to contribute to that family-friendly atmosphere."
"The city of Alpharetta replicates our company's family-friendly environment, and we are thrilled to plant deeper roots in the Peach State," says DiGilio. "With each new franchise location, Duck Donuts welcomes 25-40 new jobs to the community."
Alpharetta is located in northern Fulton County, 22 miles north of downtown Atlanta. It is well-known for its vibrant southern culture. Ranked number seven on Forbes' list of America's Friendliest Towns, Alpharetta was also named number one by Forbes in 2009 as the Best Place to Move in America. It is home to branch campuses of Georgia State University, Gwinnett Technical College, and Reinhardt University, as well as many cultural events. Coined the Technology City of the South due to its large number of tech-focused companies, Alpharetta is Georgia's 12th most populous city.
As of May 9, 2017, Duck Donuts Franchising Company has 37 open stores and 126 contracts.
As the sole proprietor and first-time franchise owner, Youn Hee Lee welcomes support, help, and insights from her two children, Rebecca Lee and Jae Lee, as well as her husband Hee Kwon Lee.
"Our Duck Donuts family is growing, and we're thrilled that new franchisees like Yon Hee Lee are also involving their entire family in the business. Our purpose statement is, 'Our family serving your family,' and with each new store opening, we become more passionate about this promise," says DiGilio.
"It's hard for my family to choose a favorite Duck Donut flavor, but we love the Strawberry Lemonade. It offers the perfect combination of sweet and tangy," says Lee.
Donuts at this location will be made fresh to order, Monday—Thursday, 6:30 a.m.-3:00 p.m., and Friday—Sunday, 6:30 a.m.-7:00 p.m. for the first two weeks. Opening weekend hours are May 19–May 21, 8:00 a.m. - 4:00 p.m. For Grand Opening specials, regular store hours, and donut topping updates, visit the Duck Donuts Alpharetta, GA Facebook page or connect on the web at DuckDonuts.com.
About Duck Donuts
Duck Donuts was founded in 2006 by Russ DiGilio in Duck, North Carolina. His intention? To solve a family vacation problem: "Our family wanted a place to buy warm, delicious & made to order!™ donuts, and when we couldn't find one, we decided to start our own."
By 2011, Duck Donuts had expanded to four Outer Banks locations and the donut business was so successful that DiGilio was continuously approached about franchise opportunities and by fans who begged for a Duck Donuts in their communities. The first franchise opened in Williamsburg, VA, in 2013, and there are now 37 open franchise locations and 126 contracts.
Duck Donuts store openings are scheduled for:
Nags Head, NC – May
Dayton, Ohio – May
Jacksonville, NC – May
Wilmington, NC – May
Hershey, PA – May
Baltimore, MD – May
Kissimmee, FL – June
Duck Donuts emphasizes the importance of giving back to the local community through their #QuackGivesBack initiatives every month and their national corporate partnership with Chemo Duck. "Our mission is twofold," says DiGilio, "to serve the most amazing warm, delicious, and made-to-order donuts, and to contribute to the communities we call home."
The Duck Donuts Experience
"We discovered that the most powerful marketing advantage we have is the aroma of warm donuts wafting from every store. Our light vanilla cake donut is a little crispy on the outside and fluffy on the inside, made fresh right in front of you, hand-dipped in hot icing, and sprinkled with your choice of delicious toppings and drizzles. It's that simple," says DiGilio.
Children (and grownups) love to stand on the strategically placed step in the waiting area, allowing them to see the entire process as the donut machine cooks and carries their donuts down the line, where they are dipped, topped, packaged, and served warm in the box. Duck Donuts serves its own signature coffee blends—Riptide Roast, Light House Blend, and Sunset Pier Decaf with new special seasonal flavors changing throughout the year—and offers breakfast options, as well as catering services. Indoor and outdoor seating is available at most locations.
To learn more or to share your Duck Donuts experience, Like us on Facebook, follow us on Instagram, or send us a Tweet.