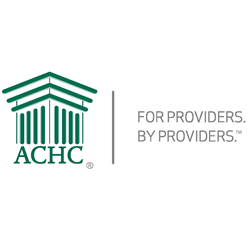 Cary, NC (PRWEB) May 11, 2017
Accreditation Commission for Health Care (ACHC) is pleased to announce a renewed partnership with the Association for Home and Hospice Care of North Carolina (AHHC). The longstanding partnership will continue to support home care providers in North Carolina with special discounts on ACHC's nationally recognized accreditation and educational resources.
"ACHC is proud to continue its partnership with AHHC and will remain focused on our shared commitment to supporting home care providers with education and facilitating the highest quality of care by ensuring providers have access to the best available resources and offerings," said Matt Hughes, Director of Business Management and Customer Service.
AHHC is a nonprofit trade association representing providers of home health, hospice, palliative care, personal care, private duty nursing and companion/sitter services. It was established in 1972 and currently has a membership of over 750 provider agencies and vendors who provide services and products to providers. AHHC's mission is REAL: Resources, Education, Advocacy and Leadership. Services include: technical assistance, monthly newsletters, quality educational programs, annual directory, email alerts, and political lobbying. AHHC strongly advocates for its members and the many patients they serve, and is recognized by colleagues, regulators, and legislators as one of the most active and effective home care associations in the US. Visit http://www.homeandhospicecare.org for more information.
"We admire the leadership and collaboration exemplified by ACHC and are proud to continue this partnership," said Tim Rogers, President and CEO of AHHC. "Many may not realize this, but AHHC helped establish the Accreditation Commission in 1986. Decades later, the two organizations have a strong relationship that benefits our member agencies. AHHC members receive discounted accreditation services through ACHC, so not only are our agency members pursuing higher quality through accreditation with ACHC, but they are also saving money thanks to our partnership."
ACHC is a nonprofit accreditation organization that has stood as a symbol of quality and excellence since 1986. The organization has CMS Deeming Authority for Home Health, Hospice, and DMEPOS and a Quality Management System that is certified to ISO 9001:2008. ACHC is the provider's choice for accreditation because of its personal Accreditation Advisors, relevant and realistic standards, competitive pricing, and a friendly, consultative approach to accreditation. Accreditation by ACHC reflects an organization's dedication and commitment to meeting standards that facilitate a higher level of performance and patient care.
For more information on ACHC's accreditation programs and educational resources, or to download ACHC accreditation standards, please visit http://www.achc.org or contact customerservice(at)achc.org or 855-937-2242.