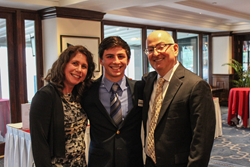 Every student has a special talent and can be successful
Westport, CT (PRWEB) May 19, 2017
The 2017 Fred J Epstein Youth Achievement Awards (YAA) were presented at the Smart Kids with Learning Disabilities annual benefit on Friday, April 21, 2017 at the Indian Harbor Yacht Club in Greenwich, Connecticut.
The award, named for pioneering pediatric neurosurgeon Dr. Fred J. Epstein, recognizes outstanding achievement by young people with learning disabilities (LD) or ADHD. Dr. Epstein credited his significant learning disabilities as a major factor in his success and became an inspiration to children with LD.
The winner of this year's $1,000 award, Mory Gould from Potomac, MD, is a nationally ranked diver with aspirations for the 2020 Summer Olympics. Mory, age 17, will join the top-ranked diving team this fall at Indiana University, where he was accepted into the Honors College and plans to study biology. He is also active in scouting and earned his Eagle Scout badge by creating innovative storage spaces on wheels for youth sports programs in underprivileged areas.
It was not until 8th grade that Mory was diagnosed with dyslexia and dysgraphia. In his acceptance speech, Mory described his frustration with school. "While academics was a constant struggle," he said, "I found redemption in athletics [where] I was rewarded for my hard work and determination." Mory chooses to focus on his accomplishments rather than his struggles. "I believe all kids have strengths and the key is to find that strength, nurture it and pursue it," Mory said. "Not every student succeeds at school. But every student has a special talent and can be successful."
Paige Christie, age 18, of Brookfield, WI was honored with the 2017 Special Recognition Award. Although dyslexia made her "dread reading," it did not stop her from taking AP courses and excelling in math and science. Paige started a STEM (science, technology, engineering and math) camp for 4th to 6th graders three years ago to share her love of science. "Put a math equation or chemical reaction in front of me," she said, "and a whole new world opens." She has been accepted to her top two college choices, Colorado School of Mines and Michigan Technological University.
Honorable Mentions were awarded to:

Sahil Menon, 17, of Bel Air, MD, an enthusiastic activist for children with Tourette's Syndrome and learning disabilities who uses his own experience to bring personal depth to his work.
Bryan Perla, 18, of West Boylston, MA, has excelled as both a gymnast and honor student despite his dyslexia and will attend Stanford University this fall.
Christoph Russi, 18, of Westport, CT, an accomplished violinist, journalist, athlete, and film-maker will attend the New York University Tisch School for the Arts this fall despite his ADHD.
Ethan Wadsworth, 17, of Brooklyn, NY, struggles with math and reading because of dyslexia, but his passion for art led to developing characters and graphics that will be featured in game sets by Guidecraft.
Maia Abbruzzese, 17, of Portland, OR, is an outspoken community advocate and political activist; ADHD has not limited her from using her talent for words to succeed in both debate and poetry competitions.
More information on these talented students may be found here.
Stacey Hafen, co-chair and long-time member of the YAA Selection Committee, was delighted with this year's winners. "We received many, many outstanding applications," she said. The committee reviewed over 120 applications from students in 36 states. "We are thrilled to honor these remarkable young people and so pleased that six of them could join us for the gala."
About Smart Kids with Learning Disabilities, Inc.
Smart Kids with Learning Disabilities, Inc. is a Westport-based nonprofit organization dedicated to empowering the parents of children with learning disabilities (LD) and attention deficit disorders (ADHD) via its educational programs, award-winning website and blog, and free e-newsletter at http://www.SmartKidswithLD.org. The organization also educates the public about these children's gifts and talents. Connecticut Governor Dannel Malloy and Anne Ford are Honorary Board members and Henry Winkler, Golden Globe award-winning actor, director and author, serves as the organization's Honorary Chairman.
For more information, visit http://www.SmartKidswithLD.org.