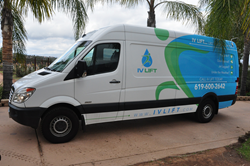 Our therapies are designed to help you recover from a number of common ailments.
SAN DIEGO, CA (PRWEB) May 16, 2017
IV Lift today has launched the first mobile IV therapy service in San Diego offering a full range of IV therapy to ordinary people, athletes or businessmen who need to rejuvenate after a long trip, or even a hard night out.
With the new mobile service IV Lift also has launched its new website to make it easy and convenient to connect those interested in IV therapy to the mobile therapy service. Patients can easily choose the service needed and locate the mobile van and contact the staff directly.
Once reserved for elite athletes and star performers, IV therapy has become available to anyone whose work/play lifestyle demands peak performance. But until now, patients needed to go to a clinic to receive their IV boost.
"IV Lift will bring recuperation to you," says Sonya Ahmed, MD, Chief Medical Officer of IV Lift. "Our therapies are designed to help you recover from a number of common ailments. The cornerstone of our therapies utilizes the benefits of intravenous (IV) fluids, medications, and vitamins to treat the accumulative effects of nutritional deficiencies and metabolic imbalances. IV Lift offers IV therapy on the spot and not in a clinic or office setting. IV treatments that will help lift your mind and body to its peak performance."
Intravenous (IV) therapy is commonly used in many health care settings to help correct dehydration, nutritional deficiencies, and electrolyte imbalances. The therapy can be used to enhance immunity to viral infections, boost athletic performance, reduce the effects of jet lag, stimulate metabolic function, and even offset the effects of dehydration due to over use of alcohol.
"With the growing awareness of IV therapies, we felt a mobile IV clinic staffed by medical professionals would offer the highest quality therapy for busy people looking for both convenience and affordability in recuperation care," say Co-Founder Chrystal Fowler.
More information including the full, detailed menu of available IV cocktails is available at our IV Lift website.
###
About IV Lift
The founders of IV-LIFT recognized that those who demand peak performance have demanding schedules that do not fit with clinic visits. To meet the need of these people, the concept of bringing recuperation to you was launched with the IV-Lift Mobile IV Therapy Unit. The goal is to deliver hydration and other IV therapy services that are safe, convenient and less expensive. The IV-Lift's mobile team of highly experienced PA's, RN's, paramedics and medical professionals have years of experience in the medical field and deliver treatments under the direction of Chief Medical Officer Sonya Ahmed, MD.