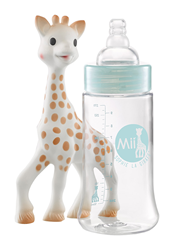 "We can't wait to see how everyone at the show reacts to the new bottles! They offer style alongside peace of mind for new parents."
(PRWEB) May 12, 2017
Calisson Inc., purveyor of the beloved Sophie la girafe line, is excited to announce they'll be showcasing their full collection of Sophie products at the JPMA Baby Show on May 13. This event is the largest consumer baby show in North America, and the prime place for innovative brands like Calisson to share their latest products with the world.
"Our booth will be offering show specials to retailers and great price points to the final customers of the day," said Calisson CEO Hélène Dumoulin-Montgomery. "We'll also be offering coffee, pastries, and a breastfeeding corner to help all the moms out!"
Sophie la girafe made her debut in France in 1961. After all these years, she is still one of the most sought after toys for baby showers and birthdays, and has formed quite the celebrity following with fans like Sir Elton John, Kim Kardashian, and Alyson Hannigan.
Made from 100% natural materials and designed to stimulate all five of baby's senses, Sophie has quickly become a parenting favorite and launched a number of Sophie themed educational toy lines.
These will all be in attendance at the event, along with their new Mii Sophie la girafe Forever line. These revolutionary bottles feature breakthrough nipple and venting technology that help reduce colic and painful feedings.
"We can't wait to see how everyone at the show reacts to the new bottles," said Dumoulin-Montgomery. "They offer style alongside peace of mind for new parents."
In addition to Sophie la girafe, they'll also be exhibiting the Calisson Little Royals clothing and accessories collection and Pamplemouse Peluches stuffed friends.
To discover all of Calisson's adorable and engaging creations, head to the Anaheim Convention Center and stop by Booth 2055. For more information, please visit http://www.sophiethegiraffe-usa.com.
About Us
Sophie la girafe is a beloved children's brand that was born in Rumilly, France in 1961. It made its US debut in 2000, when French expatriate Hélène Dumoulin-Montgomery longed to share her favorite childhood toy with her new baby girl. Her company, Calisson Inc., is now the sole US distributor of Sophie la girafe early development learning toys, teethers, and new feeding bottles.