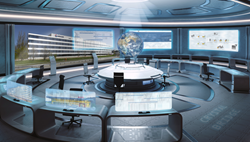 "SNP's CrystalBridge is essential for planning SAP S/4HANA transformations. With its comprehensive, X-ray visibility into SAP installations, regardless of size and complexity, companies can build accurate blueprints."
Orlando, FL (PRWEB) May 12, 2017
SNP AG, an SAP partner and global provider of transformation software and services for SAP® applications, today announced that it will participate at SAPPHIRE NOW® and ASUG Annual Conference being held May 16–18 in Orlando, Florida at booth #1169. The company will be previewing its brand new and not yet released CyrstalBridge, a cloud-based discovery solution that visualizes SAP installation architectures and configurations for planning SAP S/4HANA and other business transformations.
SNP will be conducting demos for different migration scenarios including SAP S/4HANA, cloud, and heterogeneous re-platforming, as well as for business entity divestitures, mergers, and systems consolidations at SAPPHIRE NOW. Built upon the company's flagship product for automated data migrations, SNP Transformation Backbone®, SNP's CyrstalBridge provides a comprehensive repository of SAP object attributes rendered in navigable and reporting formats. With this new product, IT leaders will optimize planning efforts by having access to critical info for customizing, organization hierarchies, object usage, and the ability to compare different systems for harmonization. Demo times and details can be found here: http://www.snpatsapphire.com
"SNP's CrystalBridge is essential for planning SAP S/4HANA transformations," explains Dr. Steele Arbeeny, CTO of SNP AG. "With its comprehensive, x-ray visibility into SAP installations, regardless of size and complexity, companies can build accurate blueprints easily – without burning months of manual effort. Most importantly, projects can be planned in detail and estimated with greater predictability, helping to ensure a successful outcome."
Further, SNP will present its turnkey service for migrating customer SAP environments to SAP® Business Suite on HANA test environments on the AWS Cloud to SAPPHIRE NOW attendees. This service enables customers to migrate rapidly from their older non-Unicode and non-Linux platforms to HANA in the AWS Cloud, so they can begin their testing and prepare for the full project. The company replatforming experts will share best practices onsite, answer technical questions and provide quotations for this service to interested attendees.
Conference attendees are encouraged to register at http://www.snpatsapphire.com for appointments, demos and complimentary business landscape transformation consultations.
SAPPHIRE NOW and the ASUG Annual Conference are the world's premier business technology event and largest SAP customer-run conference, offering attendees the opportunity to learn and network with customers, SAP executives, partners and experts across the entire SAP ecosystem. Click here to set an appointment.
About SNP AG
SNP enables companies with an ever-changing business environment to design and execute their digital transformation successfully and seize market opportunities. SNP solutions and software automate the merging of previously-separate IT environments, support M&A projects and carve-outs, and promote the expansion and development into new product markets. First to the global market, SNP offers SNP Transformation Backbone®, a standardized software-based solution that automatically analyzes and implements IT systems changes. This opens clear quality advantages for customers – and the timeframes and costs of transformation projects are significantly reduced as well.
# # #
SAP, SAPPHIRE NOW and other SAP products and services mentioned herein as well as their respective logos are trademarks or registered trademarks of SAP SE (or an SAP affiliate company) in Germany and other countries. See http://www.sap.com/corporate-en/legal/copyright/index.epx for additional trademark information and notices. All other product and service names mentioned are the trademarks of their respective companies.