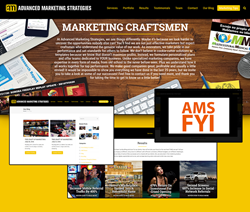 San Diego, CA (PRWEB) May 11, 2017
AMS has been one of the top marketing agencies in Southern California for over 25 years. The new site contains portfolio samples of the many clients they have worked with, including Mossy Automotive, San Diego County Credit Union, Soboba Casino, Henry's Marketplace, Bekins Moving and Storage, and McMillin Homes to name just a few.
The "Mossy Nissan Moves You" jingle was also their brainchild; you can listen to it in the engaging Radio sample section on the site. AMS has masterfully divided its portfolio into "Industry Reel" sections as well as a Television, Digital (Social Media) and a Hispanic section which rounds out their full range of marketing media work.
The new website goes beyond samples, they have also included a "Results" section that gives visitors a look into past marketing case histories. Kathleen Cunningham, Founder and President of AM Strategies says, "We have remained one of the top advertising firms in San Diego because we see things differently. Maybe it is because we look harder to uncover the opportunities nobody else can find. In this world of programmatic automation, templates, and plug-ins, we take the time to hand-craft your marketing plan. We also believe in staying one step ahead of typical marketing consultants; my personal mission is to keep the agency on the cutting edge of technology, and our team is very adept at using every tool available. The combination of fine details, personal attention, and advanced technology, gives our clients the results they need to stay on top."
Michele Marlo, Executive Creative Director, has been with the advertising firm for almost 11 years. Her experience includes leading national brands such as La-Z-Boy, HGTV, The Detroit Zoo, Lexmark, OnStar, Helzberg Diamonds, The May Company, Minute Maid, Buick's Tiger Woods campaign, General Motors, and Blockbuster Video. She is proud of the new website she helped to develop and says, "We do not believe in cookie-cutter solutions because we know that does not connect with our clients. We take pride in our craft and set standards for others to follow, and our new website reflects that thinking."
Utahna Hadden, Vice President Account Services, has dedicated over 15 years to superior client services at Advanced Marketing Strategies and says, "We have expertise in every form of media, from traditional to digital and social media, and most importantly, we understand how they all work together for top performance! Showcasing all that experience was challenging. So, we formulated the new site to unfold like a scroll for an easy look at everything we do." We invite you to visit http://www.am-strategies.com/
Advanced Marketing Strategies has provided over 25 years of strategy based, result-oriented marketing and media solutions that have increased web traffic, sales, and profits for their clients and are looking forward to many more years of service in San Diego.
For more information, contact: Kathleen Cunningham / Founder and President
kcunningham(at)am-strategies.com
(858) 490-6910
8910 University Center Lane, Suite 620, San Diego, CA 92122