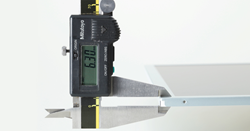 Chino, CA (PRWEB) May 11, 2017
Tianma NLT USA has announced the introduction of a thin and lightweight 15.0-inch diagonal LCD module with XGA resolution (1024 x 768 pixels, P/N NL10276AC30-53D) for industrial applications such as POS and ATMs. The module was developed by NLT Technologies, Ltd., a Tianma Group company, with mass production planned to start in June 2017.
The new module utilizes a slim LED backlight supported by optimized design of its backlight system. Accordingly, it has achieved a module thickness of only 6.3mm and weight of 640g, which are approximately half of conventional modules in the same size range.
Furthermore, the new LED backlight offers excellent luminous efficiency while requiring less power consumption. Typically, a thin LCD module results in inefficient light use, leading to a tendency of power consumption to increase. However, the new module utilizing the high efficiency backlight can prevent the increase associated with the thin body and, therefore, can achieve excellent performance of 500cd/m2 luminance and 8.5W power consumption.
POS systems are widely used for sales management in distribution, retail and other industries where more compact footprints and improved designs are in high demand for terminal equipment. Consequently, thinner, lighter, and more efficient display modules are also in need. The development of this thin and lightweight industrial model meets the market need for the compact design of devices in which the LCD module is mounted thus contributing to improved convenience for users.
The prototype of new LCD module was showcased at Embedded Systems Expo 2017 (East 4-65), May 10-12, at Tokyo Big Sight in Japan, and will be featured at Display Week 2017, May 23 to 25 in Los Angeles, California, USA, in booth 1005, and at Computex Taipei, May 30 to June 3 in Taipei, Taiwan.
For more information, contact Tianma NLT USA, Inc., 13949 Central Ave., Chino, CA 91710.
909-590-5833, info(at)tianma.com.
About Tianma NLT USA, Inc.
Tianma NLT USA is the leading provider of small to medium size display solutions to the Americas market utilizing advanced technologies from Tianma Microelectronics and NLT Technologies Ltd., coupled with the manufacturing resources of the Tianma Group. Applications include smartphones, tablet PCs, industrial and medical instrumentation, wearables, home automation, household appliances, office equipment, and automotive and rear seat entertainment devices, as well as test and measurement systems, instrumentation equipment, point-of-sale and ATM systems, gaming systems, global positioning systems, radio-frequency identification devices and barcode scanners.
Technologies include TFT, LTPS, Oxide-TFT, AM-OLED, flexible, transparent, 3D, PCAP and In-cell/On-cell integrated touch. With a network of best-in-class distributors and value-added partners, Tianma NLT USA provides complete display module solutions for a broad base of customers and applications. The range of display features offered includes ultra-high resolutions, wide temperature ranges, high contrast ratios, rich color gamut, backward compatibility, LED backlights, high bright and transflective viewing for use in diverse lighting environments.
The content in this press release, including, but not limited to, product prices and specifications, is based on the information as of the date indicated on the document, but may be subject to change without prior notice.