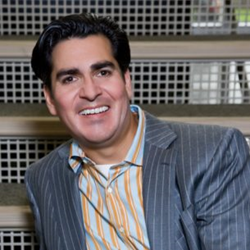 (PRWEB) May 16, 2017
Dr. Armando Soto, plastic surgeon from Orlando, has joined the prestigious Haute Beauty Network. The Haute Beauty Network, affiliated with luxury lifestyle publication Haute Living, is proud to recognize Dr. Armando Soto as the network's newest partner.
Dr. Soto will share his skill and expert opinion with the Haute Beauty and Haute Living subscribers, educating readers on his field and providing exciting and relevant news, tips, and trends and insight relating to his specialties.
About Dr. Armando Soto:
Dr. Armando Soto was born and raised in El Paso, Texas. His father was a respected general surgeon in the West Texas community, and his mother had been a nurse prior to "retiring" to raise her five children.
After high school, Dr. Soto attended Texas A&M University, where he earned a degree in Microbiology and graduated with honors in 1991. He was accepted to The Johns Hopkins School of Medicine and, correctly believing this to be the opportunity of a lifetime, left Texas for Baltimore. While at Johns Hopkins, he was inspired by the work of the surgeons in the Department of Plastic & Reconstructive Surgery and made the decision to pursue Plastic Surgery Training. Based on his record and the recommendations of the plastic surgeons at Johns Hopkins, he was accepted for training in the prestigious program at Washington University & Barnes-Jewish Hospitals in St Louis, where Plastic Surgery was born in the United States.
Upon completion of his training in Plastic Surgery, he was accepted for an additional year of advanced training (a "fellowship") in complex breast surgery, microsurgery, and breast reconstruction with Dr. Bernard Chang at The Center for Women's Health and Medicine of Mercy Medical Center in Baltimore. Dr. Chang had been one of Dr. Soto's mentors at Johns Hopkins, and it was with excitement and pleasure that he returned to Baltimore for this advanced training available at only a very few centers in the world. Dr. Soto's training with Dr. Chang was shortened from one year to 9 months on the decision of the faculty that he was ready to proceed in his career and in order to accept their invitation to join the faculty of The Center for Women's Health and Medicine himself. He spent the next 5 years on the faculty, advancing the care of women from throughout the mid-atlantic, and indeed from around the nation, as one of only a few surgeons competent in the advanced techniques being performed there. During those years, he also assisted in the training of 5 more plastic surgeons and was named one of the top "40 Under 40" by the Baltimore Business Journal, a listing of the most promising Baltimore professionals under age 40. This was an extreme honor, considering the extreme sophistication of the Baltimore-D.C. medical community.
Dr. Soto decided to bring his expertise to Central Florida in 2006, and since arriving in Orlando, he has made a name for himself as an extremely ethical, creative, skilled and compassionate surgeon, and in late 2007 opened Aesthetic Enhancements Plastic Surgery, a state-of-the-art skincare, laser and surgical facility in the Dr. Phillips neighborhood of Orlando. He has received numerous awards, but (being old-fashioned) believes that the extent to which most media best doctor awards have been corrupted by marketing dollars and politics makes them not worth mentioning (physicians should be above this behavior). He takes much greater pride in the daily reviews and referrals of his real patients, with whom he feels true kinship on the journey to their improved self image.
Dr. Soto specializes in all aspects of facial rejuvenation, breast and body contouring procedures including upper and lower lid blepharoplasty (eyelid surgery), face/neck lift (rhytidectomy), laser resurfacing, Botox and filler treatments, liposuction, abdominoplasty (tummy tuck), inner thigh lift, brachioplasty (arm lift), torsoplasty (body lift), and breast surgery, including breast augmentation, breast reduction and breast lift procedures. He is considered by many in Central Florida to be the plastic surgeon of choice for the management of complex breast implant problems and revision plastic surgery, and his Mommy Makeover procedures draw patients from around the globe.
Fully embracing the less invasive approach many patients prefer, Dr. Soto and Aesthetic Enhancements offer an unsurpassed menu of options for safe, effective enhancement of the appearance without surgery including ThermiTight, Coolsculpting, Ultherapy, miraDry and Cellfina procedures, and skin care by the world's top lines.
Dr. Soto lives with his wife and children in Windermere. He is an accomplished amateur photographer, plays electric guitar, is a doting father, and believes the true nature of excellence is an unlimited desire and capacity for self-improvement.