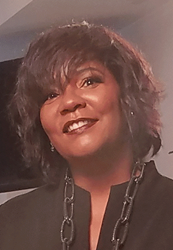 "We have an obligation to make sure that the next generation coming up is groomed and wants to take on what we're leaving behind. I realized I needed to give back." - Cheryl McCants
Newark, NJ (PRWEB) May 11, 2017
Today America's Small Business Development Center New Jersey (NJSBDC) welcomed Top Woman in PR 2017 and Top 25 Leading Woman Entrepreneur 2016, Cheryl McCants as a panelist for its "Women Warriors in Business" event. The symposium and luncheon brought together more than a hundred accomplished women business professionals, entrepreneurs and small business owners to dialogue, learn from industry experts, and encourage each other in the pursuit of professional success.
McCants, president and CEO of Impact Consulting Enterprises, served as a featured expert on the premier plenary titled, "Being an Entrepreneurial Leader in Business & Career." McCants and her co-panelists were frank and heartfelt, sharing their own challenges in business leadership as well as their commitment to uplifting other women along the way.
"The reason I decided to start my own firm is because I met this woman, and she had her own business. I was so enthralled and excited by her feeling of liberation, and she said to me, 'you can do it too,'" said Cheryl McCants, president and CEO of Impact Consulting Enterprises. "We have an obligation to make sure that the next generation coming up is groomed and wants to take on what we're leaving behind. I realized I needed to give back."
With more than 25 years as an entrepreneur, business and marketing coach and award-winning communications professional, McCants has both been a beneficiary of, and a contributor to the NJSBDC's resources. For several years, she has volunteered as a NJSBDC mentor and trainer, leading webinars on marketing strategy, strategic communications and branding, and advising business owners during the organization's Internet Marketing Week each year since its inception. She has also served as the keynote for the New Jersey Association of Women Business Owners Diversity Luncheon, and as a panelist for signature events and conferences with Rutgers-Newark Business School's Entrepreneurship Pioneers Institute, the Newark Regional Business Partnership, and other organizations.
Her firm, Impact Consulting Enterprises, provides strategic communication, marketing and public relations support to enterprises of all sizes, public and private. Past clients include the U.S. Department of Transportation, Ms. Foundation for Women, the Girl Scouts of America, Odyssey Media and many more.
###
Access media photos from the Women Warriors in Business luncheon and symposium here: https://www.dropbox.com/sh/5c7j93mpwm9mjc9/AABeX2tOY7WDTDKT-RxH_DnZa?dl=0
Impact Consulting Enterprises
Impact Consulting Enterprises is a minority and woman-owned strategic communication, marketing and public relations firm. Founded in 1989 by business strategist and communicator Cheryl McCants, Impact works with words. We are brand storytellers and assist individuals, corporations, small businesses, nonprofit organizations and public agencies by telling their untold stories in relevant and meaningful ways.