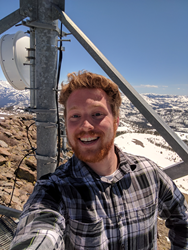 "When Zach joined our team, he brought real passion for his work—delivering an exceptional level of customer service and initiating projects that improved network efficiency." -- Seth Griffin, General Manager, E Squared C
Minden, NV (PRWEB) May 11, 2017
E Squared C, Inc. is pleased to announce that Zachary Cupp, who has served as a Tier One Endpoint Support Specialist at E Squared C since July of 2016, has been promoted to Network Engineer—strengthening the depth of expertise for clients outsourcing IT services to the firm. E Squared C, a Managed IT Service provider located in Minden, Nevada, provides comprehensive IT services ranging from high-level systems analysis to fundamental technical support for small- and medium-sized businesses electing to outsource IT management.
Seth Griffin, General Manager for E Squared C, Inc., commented, "When Zach joined our team, he brought real passion for his work—delivering an exceptional level of customer service and initiating projects that improved network efficiency. At his interview, he told us his goals was to become a Network Engineer, and with his energy and enthusiasm, it didn't take long for him to grow into this new position."
When it comes to IT management, for Zach, it was love at first sight. The first time he saw a server rack and the networking connections that make exchange possible, he was hooked. He has pursued this track with curiosity and passion ever since. A recent graduate with an Associate of Applied Science (AAS) degree with an emphasis on Computer Networking Technology, Mr. Cupp is also a Cisco Certified Networking Associate (CCNA) in Route and Switch technology and is currently working on his CCNA certification in Security. Next, he has set his sights on completing the Cisco Certified Networking Professional (CCNP) level of certifications to further enhance his networking skillset.
In past positions, Zach has managed small networks and deployments from end to end as well as deployment of Ubiquiti bridges, Dell SonicWALLs, and Cisco switching equipment. Zachary is also an experienced AutoCAD user and is practiced in AutoCAD software deployments.
In his new role at E Squared C, Zach is primarily responsible for the design, implementation, maintenance, and efficiency of client networks. He also handles onboarding for new employees and assists as back-up for service requests. Recently, Zach redesigned a network from the ground up for a local engineering firm, taking apart and reassigning the connections, installing new equipment, redefining the purpose of each server segment, and thoroughly documenting the new layout. This project increased the efficiency of the network by cleaning up cables and routing inefficiencies, implementing best-practice switching concepts, applying redundancies, and allowing for scalability for new services.
Zach's new role has already taken him to high places. To repair a wireless bridge for an Alpine County client, Zach installed updated equipment on an existing cell tower base station and solar array. As the Network Engineer, he was responsible for selecting, fabricating, and installing equipment that would work reliably in an environment subject to high winds and extreme temperature changes.
When he's not installing equipment on mountain tops or redesigning network systems, Zach enjoys mastering Super Smash Bros, exploring the Carson Valley, and preparing for a new arrival he and his wife are expecting in June.
About E Squared C
From on the ground IT management services to virtual machines, back-ups, and cloud computing, E Squared C has a history of providing innovative, cost-effective IT solutions that create efficiencies and cut costs. As a managed service provider, E Squared C provides clients with the same access and expertise of an internal team of IT employees certified in multiple fields—but at a lower overall cost. To accomplish this, E Squared C leverages the skills of its IT professionals with software platforms that provide additional network and endpoint monitoring and management capabilities. E Squared C's adaptive internal business process aligns the client's site infrastructure, allowing early detection and proactive intervention prior to network or endpoint failure—reducing or eliminating downtime and increasing overall productivity.
Contact Information
E Squared C, Inc.
Attn: Seth Griffin, General Manager
1603 Esmeralda Avenue
Minden, Nevada 89423
775.392.1606
http://www.esquaredc.com