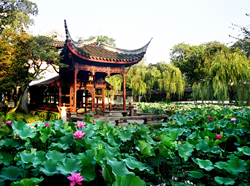 Suzhou, China (PRWEB) May 12, 2017
Following last week's events in Boston, Suzhou Tourism completed its year-long awareness tour that targeted North American travelers and was directly integrated with its social campaign – "A Curated Look at Suzhou's Arts & Culture – No Visa Required," which began in June 2016. The bi-coastal tour also had stops in San Francisco and Los Angeles. Taking place in both virtual and in-person formats, the events in all three cities provided consumers, media, and travel professionals the ability to connect with Suzhou via social media.
The tour concluded in April with a month-long celebration of the 100th birthday of world-renowned architect I.M. Pei, one of Suzhou's most famous residents. Celebratory online and offline events occurred, including a week-long social media campaign encouraging users to send birthday wishes to the architect. A private event for more than 35 members of the travel community was held at Boston's John F. Kennedy Presidential Library and Museum, which was designed by I.M. Pei in the 1970s, and a consumer activation took place in the Boston Common, which included an interactive photo set-up that allowed locals to take a picture 'with' I.M. Pei and send a digital birthday message.
To capitalize on the expanding California market and the numerous flight options to China from Los Angeles and San Francisco, Suzhou Tourism headed to the west coast twice. On March 15, 2017, the organization hosted a private luncheon event with more than 40 influential members of the Los Angeles travel trade community at The Getty Center. During the afternoon gathering, U.S.-based representatives of Suzhou Tourism educated travel agents and tour operators about the "Venice of the East" and engaged them in the destination's assets through a series of interactive social media activities such as Facebook Live and Instagram Stories.
During the weekend of October 21, 2016, the tourism board completed a takeover of San Francisco, inviting residents and visitors to experience Suzhou and engage directly with the destination through a series of interactive public activities at the de Young Museum and at Wharf Fest 2016. At a co-hosted 'Friday Nights at the de Young Museum,' event, an after-hours art "happenings" program, more than 1,500 event attendees were transport to the city through a photo-booth experience. Guests took a picture or two 'in' Suzhou, and those images were shared across the tourism board's social media channels. As the title sponsor of Wharf Fest 2016 – one of San Francisco's top cultural events that took place at Fisherman's Wharf and attended by more than 8,000 consumers – Suzhou Tourism hosted a booth that educated consumers about the destination while they enjoyed complimentary samples of green tea from the region.
The digital activities also included a featured episode of Modern Living with Kathy Ireland with travel expert Julia Dimon, which aired on E! Entertainment and Bloomberg International as sponsored programming in December 2016 and January 2017, respectively. On the destination's official website for North American travelers, TravelToSuzhou.com, more than 4,000 consumers entered a sweepstakes that awarded one winner and a guest the opportunity to experience Suzhou first-hand. Via Suzhou Tourism's handle @VisitSuzhou, three social media contests were held including "Suzhou Noodles," which promoted this iconic culinary delight on Instagram to leverage the popular "foodie travel" trend; the "Life in Suzhou" Twitter contest that promoted the authentic local lifestyle; and the "Spring Into Suzhou" Facebook contest that highlighted the quintessential season in Suzhou.
These online activations were part of a multifaceted social media campaign targeting North American travelers, which concludes on May 31, 2017. The overall social media strategy was designed to attract consumers through vibrant imagery, educational videos, and first-hand experiences related to the destination's key cultural offerings across a variety of online platforms, specifically its website, TravelToSuzhou.com, Instagram, YouTube, Facebook, and Twitter.
About Suzhou
Suzhou, the "Venice of China," is known for its elegant stone bridges, canals, flowing water, and noteworthy architecture. Located in the center of the Yangtze River Delta, approximately 60 miles west of Shanghai, Suzhou is one of the oldest cities in the Yangtze Basin dating back more than 2,500 years. The city boasts the beautifully manicured Classical Gardens of Suzhou, nine of which have been designated a UNESCO World Heritage Site. Each year, millions of tourists travel to Suzhou to experience the destination's more than 400 attractions, ranging from pagodas and temples to historical districts and world-class museums. As the largest industrial city in China, Suzhou continues to develop, such as the Suzhou Industrial Park (SIP), which boasts five-star hotels, the iconic Lake Jinji, and Asia's largest overwater Ferris Wheel.
Travel to Suzhou is easily accessible via three convenient area airports with non-stop flights from North America: Shanghai Hongqiao International Airport (SHA) offers bullet train service to Suzhou, which is approximately a 50-mile, 30-minute trip; Pudong International Airport (PVG) is approximately 65 miles from Suzhou, an hour and half drive; and Sunan Shuofang International Airport (WUX) is approximately 14 miles from Suzhou, a 30 minute drive.
For more information on Suzhou please visit http://www.TravelToSuzhou.com, follow us on Instagram @visitsuzhou, Twitter @VisitSuzhou and like us on Facebook at Visit Suzhou.