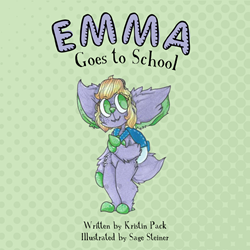 ...she wanted to honor Emma and let her know that she was loved and welcomed and that she could embrace who she is without feeling different.
Chicago, IL (PRWEB) May 12, 2017
Brad Pack, an instructor at the Chicago campus of creative media educator, SAE Institute, and his wife Kristin have launched a Kickstarter campaign to crowdfund 'Emma Goes to School,' a children's book that promotes awareness and celebrates physical and neurodiversity. 'Emma Goes to School' is inspired by Emma Nelson, who was diagnosed with Schaaf-Yang Syndrome (SYS) in 2016 and Autism Spectrum Disorder in 2017.
The Pack team aims to raise $10,000 by June 1, 2017 to help with the cost of the illustrations, page design and layout, self-publishing, printing, and shipping. Backers can choose from a variety of reward levels to help support the project.
In 'Emma Goes to School,' Emma is a little girl from Monstoria who is worried about fitting in, but while meeting her classmates, she is able to explore many issues relating to autism as well as physical and neurodiversity, including using a wheelchair and nonverbal communication. Her character has unique claws, a characteristic of the hand that is commonly seen in people with Schaaf-Yang Syndrome.
Brad has been an instructor at SAE Institute Chicago since the campus opened its doors 6 year ago. He is currently an instructor in the Music Business Program, teaching classes in audio production, touring, and distribution, and also co-teaching advanced entrepreneurship. He is the executive producer and project manager of 'Emma Goes to School'. His wife Kristin is a first-time children's book author and was inspired to write the book to honor real life Emma Nelson to help her embrace her differences while feeling loved and special.
"My wife, Kristin, was a graduate student working for the Nelson family at the time of Emma's birth," explains Brad. "She realized the challenges Emma would face and how they would make her feel different amongst other children, so she wanted to honor Emma and let her know that she was loved and welcomed and that she could embrace who she is without feeling different."
Kristin Pack says, "I became inspired to write the book shortly after Emma was born, well before she had a diagnosis. All that we knew at that time was that Emma had small and uniquely shaped hands with fingers that crossed over one another and she had difficulty feeding. I started wondering what Emma would be like as she got older; how would other kids react to her differently shaped hands? I decided that I wanted to write a book to help show her how to embrace her differences, and show others that it's not only all right to be different, it's something to be celebrated."
Brad and Kristin Pack hope that 'Emma Goes to School' will inspire children with special needs to learn to love and own their differences just like the characters in their book .
In exchange for pledging to the project, backers can gain access to a variety of rewards including a Kickstarter exclusive Monstoria T-shirt, a postcard from Emma, and a deluxe hard cover edition of 'Emma Goes to School' signed by the author.
To support the project, and help promote a world where children with special needs can embrace their difference, visit the 'Emma Goes to School' Kickstarter page.
About SAE Institute
SAE Institute provides aspiring creative media professionals with a foundation of practical theory and valuable hands-on training in their chosen areas of concentration. Under the guidance of industry-experienced faculty, students gain the essential experience they need for entry-level jobs in the creative media industry. Students are supported in their job searches by SAE Institute's international network of alumni, many of who are leaders in the music, film, game arts, and live performance arenas. SAE Institute offers accredited programs in Audio, Animation, Film, Games, and Music Business focused on preparing students for employment in the creative media industry upon graduation. SAE Institute Group, Inc. is a part of Navitas LTD. Learn more at usa.sae.edu.
About Navitas
Navitas is an Australian global education leader, providing pre-university and university programs, English language courses, migrant education and settlement services, creative media education, student recruitment, professional development, and corporate training services to more than 80,000 students across a network of over 120 colleges and campuses in 31 countries. Learn more at Navitas.com.