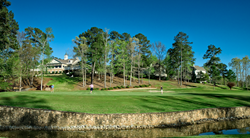 Ranked #3 on list of Best Golf Courses You Can Play in Georgia
Atlanta, Georgia (PRWEB) May 12, 2017
Don't let today's fake news fool one; golf remains in vogue but today's golf enthusiasts are more sophisticated than the 20th century golfer. Today's golfers are cost conscious and want to be challenged. This is why places like Harbor Club on Lake Oconee have been attracting golfers for decades.
Still somewhat a secret gem, Harbor Club is a 1,000-acre golf and lake community in Georgia located on the shores of Lake Oconee retained its lofty #3 ranking among the "2017 Best Courses You Can Play" in Georgia, according to Golfweek Magazine's recently released annual ranking. That's the #3 best golf course out of 538 golf courses in the state of Georgia! So much for keeping it a secret. Great views of the lake, superb practice facility, tees for every skill level and five star service by the entire staff are comments players have shared after a day on the course.
Harbor Club's sweeping lakefront design was the first offering on the east coast from the esteemed architectural partnership of Tom Weiskopf and Jay Morrish back in 1991. The course touches the shoreline of Lake Oconee, Georgia's second largest lake, six different times, while also skirting four creeks and a number of interior ponds.
This year marks the 20th anniversary of the Golfweek rating system created by the magazine's architecture editor, Brad Klein. In describing the system's inception Klein allowed that, "The trick was to devise criteria that emphasized diversity, interest, fun and strategic pleasure rather than superficial first impression. We wanted to appeal to golfers and their experience, not encourage an owner to chase ratings through massive outlays in pursuit of sensory overload."
Golfweek's eclectic rating panel consists of some 700 voters from all 50 states and 12 countries. They rely on 10 criteria to rate a golf course, including overall land plan, variety and memorability of golf holes, conditioning and ecology, and the "Walk in the park test," which rates the sense of the course as worthy of spending four hours on it.
The Harbor Club golf course anchors an inviting stable of amenities at the Lake Oconee golf course community including the newest, The Grove, an expansive fitness, recreation and special event campus. Additional amenities include a sparkling new marina, restaurant and boat storage facility, expansive outdoor Swim and Racquet Club with junior Olympic swimming pool and lighted tennis and pickle ball courts. The 15,000 sq. ft. clubhouse offers full-service dining, a fully stocked golf shop, plus men's and women's locker rooms.
Beyond its well-appointed amenities, property owners love the fact that it is not a resort community with vacationers coming and going all the time. Approximately 80% of the residents live here year round. This continues to fuse its friendly sense of community together. Residents laugh together and play together. Social events include summer concerts at the Boathouse Marina, themed events such as pool parties and game nights, family fun at the ballfields and the upcoming 4th of July golf cart parade. And these events just scratch the surface of the long list of activities each month at the club.
Residents at Harbor Club also love the small town feel and intimacy of the neighborhood yet when the need arises for an international airport or specialized medical care, the metropolitan city of Atlanta is just 80 miles away. Just 40 miles to the north is Bulldog Country in the college town of Athens. Things famous in the charming town of Greensboro where Harbor Club is located is the South's best Buttermilk Pie at Yesterday Cafe and dozens of elegant antebellum homes, the Greensboro Antique Mall with more than 50 dealers, and the only and only Ripe Things Market featuring farm-to-table produce and products. The town of Madison, about 20 miles away, is another small town charmer recognized by Southern Living.
Southern Living Magazine selected Harbor Club on Lake Oconee as a Southern Inspired Community in 2017. To meet their criteria, a community must embrace the natural beauty of Southern landscape, display the best of Southern Living inspired architecture and create environments that foster gatherings, interactions, and celebrations. Mission accomplished and the club continues to grow.
Approximately 500 homes are built to date of the 900 planned. Retirees on a budget can find homes in the low $200's or those who must have a boat dock behind their home can find luxury new lakefront homes on Lake Oconee around 1 million. The average home price at Harbor Club is around $400k. Folks still have the opportunity to build a brand new energy efficient home designed just the way they want it.
While achieving #3 status again by Golfweek has the golf and lake community in Georgia cheering again, it's a happy life at Harbor Club that brings the greatest joy.
To schedule a tour of this remarkable Southern Living Inspired Community, contact Kathy Phillips at 866.805.5253.
Be sure to ask about their welcoming Discovery Package.
About Harbor Club on Lake Oconee:
Harbor Club is a family-owned, 1,000-acre golf and lake community located an hour east of Atlanta and framed by nine miles of pristine shoreline along Georgia's Lake Oconee. Harbor Club ownership continues to invest in the neighborhood and its future by recently devoting millions towards capital enhancements, including an expansive fitness, recreation and special event campus called The Grove. Harbor Club has partnered with Atlanta-based The Marketing Directors, LLC to form Harbor Club Properties, an onsite sales and marketing team, 706-453- 7855 or http://www.harborclub.com.
About Real Estate Scorecard:
Real Estate Scorecard writes unbiased real estate reviews providing in-depth information about popular gated communities in Florida, Georgia, the Carolinas and Tennessee and Central America, all in an effort to help people discover where to retire in the South.
Website: http://realestatescorecard.com