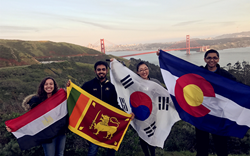 Through hosting the Road Trip Challenge, Westbon hopes to provide a platform to connect students from different parts of the world and build an international network tied by common interests in adventures and more.
Chicago, IL (PRWEB) May 16, 2017
Westbon's Road Trip Challenge debuted during spring break has finally come to an end. After a month of competitive fun, Westbon is proud to announce the final Champion: Team Bearly Alive. Team Bearly Alive will receive $2,000 cash rewards. The runner-up, Dream Catcher 66, will receive a $1,000 worth of airline voucher. This year's competition attracted hundreds of international students from more than 150 universities in the nation and collected over 1,500 votes. The selected eight groups of contestants came from six different countries - China, India, Korea, Sri Lanka, Singapore, and Egypt - and their itineraries covered more than half of the nation, with a total of 25 states, including Alaska.
Started in 2016, this Road Trip Challenge was inspired by Westbon's customized financing services and especially its auto loans ability, with the intention to benefit the international student community as well as promote the American road trip culture. Westbon offers cash sponsorship of $1,250 to each team as travel funds and $4,500 worth of rewards for final winners, sponsored by Flywire, Student Universe, and SIE. The application usually releases in February and ends in mid-March. With an increasing number of applicants every year, Westbon runs through a selective screening process based on the listed requirements, qualifications to succeed the challenges, social media experiences, and road trip background, with the hopes to include a diverse and charismatic group of participants who best represent the cultural purpose of the competition.
Every year during spring break, each selected team goes on a week-long scavenger hunts and social exchanges on their self-designed routes to travel across the nation. The rules are simple: knock down challenges and rack up votes. Each team is assigned with ten tasks, from trying out a unique restaurant to making a carpool karaoke video. The total points are based on public votes and the actual completion of tasks, 70 and 30 percent respectively. While all the tasks are designed to spice up the road trip, the event is dedicated to introducing the road trip culture to the international student community and promoting the experience of taking the open road to explore the country's exquisite landscapes, vibrant cities, and quaint small towns. Through hosting the Road Trip Challenge, Westbon hopes to provide a platform to connect students from different parts of the world and build an international network tied by common interests in adventures and more.
This year's rendition of the bout featured eight teams of undergraduate students from ten different universities. Coming from six separate countries, they were the distinct blend of charismatic individuals with distinct backgrounds in race, courses, specialties, hobbies, and most importantly, a common goal in conquering the Road Trip Challenge. "Westbon Road Trip Challenge gave our trip a distinctive dimension that we had never experienced before - from seeing amazing waterfalls we would never have made the time to visit, to practicing singing in the car to fill the time on long drives, to stepping out of our comfort zone to talk to people along the way," stated in Champion Team Bearly Alive's testimonial. All participants have the opportunities to embark on an adventurous journey, get a taste of the long-standing American road trip experience, and create countless once-in-a-lifetime memories.
As the first online lending platform, Westbon Inc. prides itself on serving the international students with auto loans, personal loans, and other customized services at low rates. The simple and quick application widens international students' access to financing options that are usually limited by the low credit scores and the lack of Social Security Number. The Road Trip Challenge not only brings awareness to the auto loans and other financing services, but it also promotes the core of the Westbon's mission: constantly provide for the international student community and ease their transition in the American society.
About Westbon Inc.
Founded in 2015, Westbon is the first online financing platform that provides international students in the U.S. with affordable financing solutions without having a Social Security Number or credit history. Westbon's auto loan service is now available in 28 states, and its personal loan service is offered in 8 states. It is dedicated to connecting the underserved international students of the U.S. credit system and helping them build credit history at an early stage by reporting on-time payments to major credit bureaus, such as Experian.