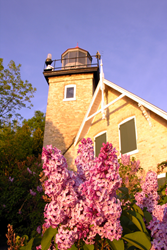 Explore the 11 lighthouses located across the peninsula at the 24th annual Door County Lighthouse Festival, June 9-11.
Door County, WI (PRWEB) May 25, 2017
School is out and families are ready to pack their bags for a summer vacation. Travel to Wisconsin's beautiful Door County Peninsula, a scenic outdoor playground bursting with activities that will put a smile on everyone's face. Visitors can plan their vacation today at DoorCounty.com or by calling the Door County Visitor Bureau toll free at 800-527-3529.
June Special Events

Hear original music at venues throughout Sturgeon Bay during the 13th annual Steel Bridge Songfest, June 8-11.
Explore the 11 lighthouses located across the peninsula at the 24th annual Door County Lighthouse Festival, June 9-11.
Celebrate Scandinavian tradition at Ephraim's Fyr Ball Festival, June 17. Large bonfires in the evening symbolize the burning of the "winter witch" and the arrival of summer.
Take part in the 51st annual Olde Ellison Bay Days, June 23-25.
Enjoy sampling wines that represent the eight wineries on the Door County Wine Trail at the Door County Wine Fest, June 24 in Egg Harbor.
State and County Park Activities
Door County offers 5 state parks and 19 county parks across the 70-mile-long peninsula. Each park offers a variety of recreational opportunities and scenic beauty.
Take part in Wisconsin's DNR free fishing weekend, June 3-4.
Celebrate National Trails Day and enjoy a hike at Whitefish Dunes State Park, June 4.
Enjoy a performance under the stars at Northern Sky Theater inside Peninsula State Park. Their summer season runs June 14- August 26.
Make a sandcastle on the 1,600 feet of sand beach at Frank E. Murphy County Park.
On Going Summer Activities

Enjoy free concerts in the park 5 nights a week. Starting June 12, concerts held in various locations across the peninsula.
Meet farm animals face to face at The Farm or Plum Loco Animal Farm.
Grab the popcorn and enjoy a double feature at the Skyway Drive-In Movie Theatre, open since 1950.
Buy local at weekly farmer's markets, held in six communities across the peninsula.
Catch a Door County sunset while cruising with one of the various scenic boat tours.
Explore Door County's history at the Heritage Village at Big Creek or the Door County Historical Museum.
Taste locally caught whitefish and watch the fiery boil over at an iconic Door County fish boil. Visit DoorCounty.com for a listing of restaurants featuring fish boils.
Stay Connected at DoorCounty.com
About Door County
Door County is a bucolic peninsula that juts out into Lake Michigan in Wisconsin's northeast corner. Named one of the Top 10 Vacation Destinations in North America by Money magazine, Door County features 300 miles of shoreline, 11 lighthouses, 5 state parks and 19 county parks. It is known for its natural beauty, artistic offerings and year-round outdoor recreation opportunities.