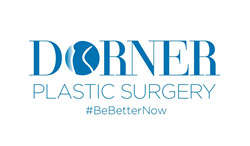 Dublin, OH (PRWEB) May 23, 2017
Dublin-based Capital City Cosmetic Surgery and Skin Health Center announced a new brand name, logo, and website to support its evolution as a national leader in breast augmentation surgery, face lifts, tummy tucks and other advanced cosmetic surgery procedures.
The new name, Dorner Plastic Surgery, was selected to reflect Dr. Brian K. Dorner's commitment to the highest quality service to clients in Columbus and beyond. He continues to build on his 21 years of expertise, working passionately to deliver excellent results and continuously raise the bar for advanced cosmetic surgery success. The new website, http://www.DornerPlasticSurgery.com, offers educational information and special offers to website visitors. It also promotes the "fly-in" program, which is meant to serve the growing out-of-town patient population who is interested in the same quality results as local clients at a fraction of the cost of big city surgeons.
Interested parties can visit http://www.DornerPlasticSurgery.com/specials to take advantage of exciting promotions on a variety of procedures.
The website also describes the company's services and products and introduces the firm's staff, which has more than 80 collective years of experience providing surgical and non-surgical services. While the name has changed, Dr. Dorner and his staff are excited to maintain the same team approach and meticulous attention to detail that have consistently led to great patient results over the last 13+ years.
For more information, go to http://www.DornerPlasticSurgery.com. Questions can be directed to Pat Johnson, Practice Manager, at (614) 336-9000 or email: PJohnson(at)DornerPS(dot)com.
About Dorner Plastic Surgery
Led by renowned plastic surgeon, Brian K. Dorner, MD., Dorner Plastic Surgery is dedicated to helping men and women realize their personal appearance goals. The practice was founded in 2004 and is known to provide the highest quality medical care tailored to a patient's individual needs. Dr. Dorner is board certified by the American Board of Plastic Surgery and was voted Best Plastic Surgeon in Columbus by Readers Choice Awards. He specializes in breast augmentation surgery, face lifts, tummy tucks, and other procedures that create a beautiful, shapely figure. His clients rave about his ability to achieve the finest aesthetic results. In addition, he provides comprehensive plastic surgery options, including rhinoplasty, breast lift and more. His office also offers non-surgical alternatives, like BOTOX®Cosmetic, Coolsculpting® and other treatments.
Contact: Pat Johnson
Email: PJohnson(at)DornerPS(dot)com
Phone: (614) 336-9000