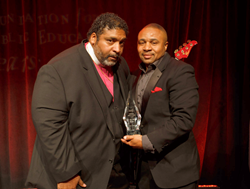 "It's a pivotal moment for us and our allies fighting for equity in education. We're operating in a different landscape, but the challenge to keep equity and inclusion in public schools at the fore is greater than ever."
NEW YORK (PRWEB) May 12, 2017
On Thursday, May 11, 2017, the Schott Foundation for Public Education (@schottfound) marked 25 years of fighting to end educational inequities in America's public schools by honoring grassroots, community and philanthropy figures who have led the charge for education justice.
Among them was noted civil rights activist Rev. Dr. William J. Barber II, who received the foundation's Lifetime Achievement Award, and The Atlantic Philanthropies former Chief Strategy Advisor for Equity Initiatives and Human Capital Development Kavitha Mediratta, who received the Philanthropy Changemaker Award.
The foundation also honored the Campaign for Fiscal Equity (CFE) with the Lilo Leeds Legacy Award. For the more than a decade, CFE rallied for equitable funding for New York City schools, and its work led to a landmark litigation victory proving the state underfunded schools and denied students their constitutional right. Lilo Leeds was a cofounder of the Schott Foundation.
"This is a moment of reflection for us as a foundation," said Schott President and CEO Dr. John H. Jackson. "For the past two and a half decades, we've been privileged to support a number of grassroots and advocacy campaigns that have successfully called out and dealt with the unequal ways we treat our nation's students, be it in terms of disciplinary policies, district funding, wraparound services or school climate issues."
"It's also a pivotal moment for us and our allies fighting for equity in education. We're operating in a different landscape, but the challenge to keep equity and inclusion in public schools at the fore is greater than ever."
Established in 1991, the Schott Foundation has been rooted in a commitment to high-quality education for all young people. Over the past 25 years, Schott has transitioned into a public charity and become a national leader in social justice philanthropy, promoting equity in public education for all students, regardless of race, gender, sexual orientation or zip code. Rev. Dr. Barber has been a staunch defender of education as a civil right, and has lent support to the CFE campaign in New York and has led education equity campaigns in North Carolina, where he founded the nonprofit Repairers of the Breach.
"Access to a high-quality, well-funded, constitutionally diverse public education is a moral issue," said Barber. "The work done by the Schott Foundation for Public Education, to fight educational inequities in America's public schools is what's needed to move our nation forward. I'm honored to receive this award tonight."
As a funder, Mediratta has worked on the front lines of creating opportunities for deeper collaboration between philanthropy, students and advocates. Her work has driven significant system change to improve school discipline policies and practice. It has also increased the awareness of issues of racial equity in American public education. She is currently executive director of the Atlantic Fellows for Racial Equity.
At the heart of Mediratta's work at Atlantic was the belief that all people have the right to opportunity, equity, and dignity. School disciplinary exclusion—and its racially biased undertones and high economic and social costs to society—led Atlantic to launch a $47 million initiative to change policy and practice and demonstrate that there is a better, more effective way to create safe, successful, and inclusive schools. She and funding partners worked alongside young people, parents, civil rights advocates, judges, educators, academics, and government leaders, to bring school discipline to the forefront of education policy and discussion in the United States.
"The successes young people have had in putting school discipline and racial injustice on the national agenda give me great hope about what can be achieved in the coming years," said Mediratta.
The awards gala was hosted by actor Lamman Rucker, known for his role on OWN's Greenleaf and Tyler Perry's Meet the Browns—but who is also an educator and activist. Students from city schools, including LaGuardia Arts High School, Success Academy High School of Liberal Arts, and the Celia Cruz Bronx High School of Music, performed at the event, along with the Mama Foundation Choir. Singer and actress Cheryl "Pepsii" Riley entertained.
The gala is the culmination of a yearlong series of activities by the Schott Foundation, looking back at the past 25 years of supporting grassroots efforts for public education and ahead toward the urgent task of accelerating the advocacy necessary to create healthy living and learning communities that provide every child an opportunity to learn. For more information, visit http://schottfoundation.org/25-years.
###
The Schott Foundation for Public Education aims to develop and strengthen a broad-based and representative movement to achieve fully resourced, quality PreK-12 public education. Schott's core belief is that well-resourced grassroots campaigns can lead to systemic change in the disparities poor children and children of color face in our nation's schools. In helping to build these campaigns into a movement, Schott recognizes its pivotal role as both funder and advocate to ensure that all children have an opportunity to learn.