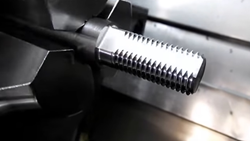 Charlotte, North Carolina (PRWEB) May 15, 2017
A new video from Okuma America Corporation, a world leading builder of CNC machine tools, shows how Flat Turning, a feature on the OSP control, is used for machining polygons. Flat Turning allows for continuous spindle rotation, which reduces both machining time and part cost while eliminating the need for time intensive milling operations. By synchronizing the rotation of the rotary tool spindle (M-spindle) with the rotation of the main spindle, both flat surfaces and radii can be manufactured in a single process.
The workpiece and the cutter are rotated synchronously with the defined rotation frequency ratio. This frequency ratio is maintained by synchronously controlling the spindle motor and the rotary tool motor. M codes are established in flat turning mode to set the ratio between the rotary tool spindle and the main spindle.
When using the Flat Turning feature flat edges are produced directly on the lathe in a single process using polygon cutters. The part and cutter head turn in the same direction, synchronizing rotation of the revolving tool spindle (M-spindle) with the main spindle to generate polygon shapes.
This is the second in a series of videos that show how a CNC control can be used to innovate and drive business growth in machine shops. To view this video please visit http://bit.ly/2pBYrhr.
Okuma America Corporation is the U.S.-based sales and service affiliate of Okuma Corporation, a world leader in CNC (computer numeric control) machine tools, founded in 1898 in Nagoya, Japan. The company is the industry's only single-source provider, with the CNC machine, drive, motors, encoders, and spindle all manufactured by Okuma. The company also designs their own CNC controls to integrate seamlessly with each machine tool's functionality. In 2014 Okuma launched the Okuma App Store, the industry's only centralized online marketplace for machine tool apps and related content. Along with its extensive distribution network (largest in the Americas), and Partners in THINC, Okuma is committed to helping users gain competitive advantage through the open possibilities of machine tools, today and into the future. For more information, visit http://www.okuma.com/americas or follow us on https://www.facebook.com/OkumaAmericaCorporation or Twitter @OkumaAmerica.
###