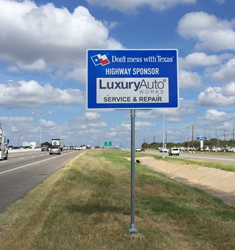 Austin, TX (PRWEB) May 13, 2017
Texas Sponsor A Highway® is pleased to announce that Luxury Auto Works® (LAW) has recently joined the Texas Sponsor A Highway® Program with 15 sponsorship signs throughout the Austin, TX area. Each sign supports highway clean-up and maintenance to keep Austin's roadways safe and looking beautiful!
Luxury Auto Works®, is an expert luxury auto repair shop with experienced auto mechanics that offers full service auto repairs on all Mercedes-Benz, Audi, BMW, Lexus, Jaguar, Maserati, Porsche, Rolls-Royce, Bentley, Ferrari, and more. LAW knows how important your car is to you, which is why they provide bumper to bumper service and repairs on all types of vehicles. To help new customers feel comfortable taking their first step working with LAW, all new customers are able to bring their vehicle to them for a courtesy vehicle inspection.
When you see their professional team and competitive cost you will want them to work on your European automobile. To further build and ensure their customers are comfortable, new and existing customers always receive a one year warranty on parts and two years on labor on all work they perform. When work is done by Luxury Auto Works®, you know that not only is it done correctly when you drive away, but the repairs are backed by a worry free warranty.
With the help of local businesses like LAW, the Texas Sponsor A Highway® Program has been serving its local communities with litter removal & highway maintenance along some of the state's busiest highways since 2015. Luxury Auto Works® has set itself apart as being an industry and community leader and now through the Texas Sponsor A Highway® Program, Luxury Auto Works® is expanding its Corporate Governance within the local community.
For more information about Luxury Auto Works® visit their website: http://www.luxuryautoworks.com
For more information about the Texas Sponsor A Highway® Program visit: http://www.adoptahighway.com