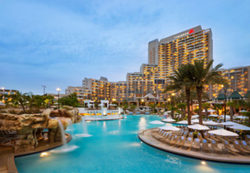 In the age of healthcare consumerism, provider organizations must focus on providing digital experiences that create value throughout the entire consumer experience – from first touchpoint through the continuum of care
Birmingham, Ala. (PRWEB) May 15, 2017
Influence Health, the healthcare industry's leading consumer experience solution provider, today announced the INFLUENCE! Healthcare Consumer Experience Conference. Powered by Influence Health, the conference will be held Sept. 27-28 in Orlando, Florida, and will provide attendees the education, resources and connections to help transform their organizations into digitally-savvy, consumer-centric businesses.
"In the age of healthcare consumerism, provider organizations must focus on providing digital experiences that create value throughout the entire consumer experience – from first touchpoint through the continuum of care," said Mike Nolte, CEO of Influence Health. "INFLUENCE! is a premier event that will bring together the most innovative and successful healthcare marketers, IT professionals, executives and business leaders to discuss the latest technologies and strategies for engaging today's healthcare consumer."
Founded in 2000, INFLUENCE!, formerly known as Client Congress, has evolved from a user group summit to an industry event. The new agenda includes healthcare thought leaders sharing how to best collaborate and leverage a better consumer experience as a competitive advantage. Taking a holistic approach, INFLUENCE! will help health provider organizations understand the cross-functional team, as well as the tools and processes necessary to achieve success.
Building off the momentum of Influence Health's 21 years of healthcare consumer engagement experience,
INFLUENCE! shares insights gleaned from launching and optimizing more than 3,700 websites and digital campaigns for over 250 healthcare organizations across North America. The sharing of collective experience at the conference empowers the healthcare industry to go beyond just traditional marketing tactics to proactively embrace the empowered consumer. The event will deliver tangible takeaways, such as how to:

Establish a shared vision and roadmap for consumer experience
Create an omni-channel experience that will get and keep patients engaged
Personalize communications and measure campaign effectiveness
Go beyond the patient portal to provide value and drive revenue
"INFLUENCE! is a great opportunity to learn from peers and industry leaders about optimizing your customers' digital experiences," said Christine L. Bon, director of digital marketing, Advocate Health Care and conference attendee. "From engaging keynote speakers, peer-to-peer networking opportunities and thought-provoking user groups, you will take away new ideas you can immediately implement at your organization. I would recommend this event for all healthcare leaders and marketers." 
For more information and to register for INFLUENCE!, visit http://influenceconference.healthcare. To find out more about Influence Health, visit InfluenceHealth.com or follow @InfluenceHlth on Twitter.
###
About Influence Health 
Influence Health provides the healthcare industry's most comprehensive suite of healthcare consumer experience solutions. The Influence Health platform enables provider organizations to positively influence consumer decision making and health behaviors well beyond the physical care setting through personalized and interactive multi-channel engagement. Since 1996, the Birmingham, Ala. based company has helped more than 1,100 provider organizations positively influence consumer relationships in a way that is transformative to financial and quality outcomes. For more information visit InfluenceHealth.com.