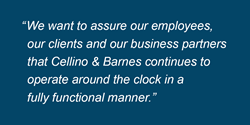 Buffalo, New York (PRWEB) May 11, 2017
We commend our 300 staff members for their understanding and professionalism, and appreciate their consistent commitment to providing quality service to our clients. As the administrative issues in question are addressed, we can confidently state that the firm intends to sustain its positive growth track and the substantial momentum we have achieved in recent years.
   
Mr. Barnes and the firm plan to aggressively oppose the dissolution papers filed by Mr. Cellino; however, we reiterate that regardless of outcome, the firm will continue to do business in the many markets we serve.
As we respect the legal proceedings, it is the firm's policy not to comment on ongoing litigation.
 
Our firm remains proud of the longstanding service our principals, attorneys and staff have provided in creating one of the largest personal injury law firms in the country—and that feeling remains unchanged.
We encourage any personal injury victim in need of representation to contact our firm. The attorneys at Cellino & Barnes continue to take calls and are available to help clients achieve the best possible results for their case.
For further information, contact the Law Offices of Cellino & Barnes, 800-888-8888.
###