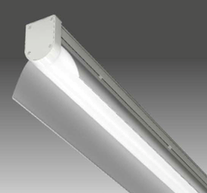 Washington DC (PRWEB) May 17, 2017
Transcend Lighting, Inc., leader in LED horticulture lighting, announced today the release of its Boost LED light bar. The 4-foot long LED grow light is an ideal primary light source for multi-tier indoor vertical grow facilities, and as a supplemental light for greenhouses. With an output of 260 umols/sec and a 45-degree beam angle, the Boost light has the power and efficiency to displace high pressure sodium lights.
The Boost light incorporates Transcend's latest advancement in horticulture lighting; its patent-pending intensity stabilization technology that ensures consistent flux density for years of use. According to Transcend Lighting CEO, Brian Bennett, "The energy efficiency advantage of LED compared to older lighting technologies is obvious. The most exciting aspect of the Boost light is that we are demonstrating an evolution to the next level, where we are enabling better, healthier plants and our customers are maximizing yield per square foot."
Like Transcend Lighting's Infinity light bar, the Boost light is easy to install and can be daisy-chained to create long, seamless lines of light. Output intensity from the Boost can be dynamically adjusted with a 0-10V input signal from a controls system. The product is IP66 waterproof, UL listed, works from 110V-277V, has a lifetime exceeding 65,000 hours and comes with a 5-year warranty. Transcend Lighting will be exhibiting the Boost LED light in booth #741 at the MJ Business Conference & Expo in Washington DC from May 17-19.
About Transcend Lighting
Transcend Lighting is a leading developer and manufacturer of LED grow lights. The company's patent-pending technologies enable unique advantages for horticultural solid-state lighting. Corporate headquarters are located in New York City, U.S.A. For more information, visit http://www.transcendlighting.com