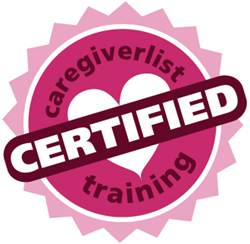 Thank you for allowing me to take the online course from my smartphone as this was very convenient for my schedule.
Chicago, Illinois (PRWEB) May 12, 2017
The Caregiverlist® California 10- Hour Senior Caregiver Training Course fulfills all required first year training outlined in Article 8. 1796.44 of California's Home Care Consumer Protection Act.
California caregiver training includes five hours of orientation and safety training prior to working with a client, along with five hours of annual core competency training and can be completed through an online training course. Effective January 1, 2016, new Caregivers must fulfill these 10 hours of training and 5-hour renewal training annually, all available through Caregiverlist® Caregiver Training University.
Personal care aides and home health aides are in the top five fastest growing occupations in the U.S., so states have enacted training legislation to protect both the growing number of in-home care aides and the seniors they serve.
Caregiverlist® Caregiver Training University provides caregivers with an online login identification and password for easy 1-click access to the training courses. Because 40% of in-home caregivers receive their certification training enrollment on their smartphones, the Caregiverlist® California 10- Hour Senior Caregiver Training Course classes are implemented to be smartphone and tablet-friendly.
California caregivers receive 24/7 access to course sections, tip sheets, and quizzes that are easy to use and understand. The digital format allows caregivers to study at their own pace, on their own schedule.
After finishing the course, senior caregivers may take the 36-question exam to confirm retention of the information and must score 75% to pass. They may retake the exam if needed, at no extra charge, and receive a new set of questions. Upon successful exam completion, caregivers are awarded a certificate in recognition for passing each Caregiverlist® Caregiver Training University course. Caregivers may print a wallet card size or full-size certificate for framing, or share digitally with a prospective employer.
The Caregiverlist® California 10-Hour Senior Caregiver Training Course includes:
Caregiver Job Responsibilities and Protocol
Senior Caregiver Job Description
CARE PLAN and CARE PLAN Notes and ACTIVITIES
Basic Hygiene and Basic Infection Control
Maintaining a Clean, Safe and Healthy Environment
Basic Personal and Environmental Safety Precautions
Emergency Procedures, Including Basic First Aid and CLient's Emergency Preparedness Plan
Confidentiality of Client Personal, Financial and Health Information HIPAA
Communication Skills
Understanding Abuse and Neglect
Personal Care and Toileting
Adaptive Equipment for Transfers (Gait Belts and Lifts)
Also included with the online training course:
​​Glossary of Caregiver Terminology
Sample Daily Care Plan Notes
Audio of Course
Online and Telephone support
Online Quiz (sample quiz)
Certificate Documenting Date of Completion and Exam Score
"I finished the course and passed the exam with a 97% score. Thank you for allowing me to take the online course from my smartphone as this was very convenient for my schedule. And I really like the certificate with my name on it, too!"--Martha Gonzalez
Professional caregivers may purchase the course online for $59 and senior care companies may purchase bundles of training class passes to train their caregiver employees on their own customized portal. In addition to professional caregivers, California family caregivers may also acquire training as the need for in-home caregivers increases.
About Caregiverlist®
Caregiverlist® is a provider of digital tools created by experienced senior home care experts. Caregiverlist® first offered caregiver certification training in 2012, applying digital tools to caregiver training customized for the senior caregiver caring for seniors in their own homes. Caregiver Training University powers the caregiver training, customized for individual state requirements. Caregiverlist® also delivers the efficiencies of the internet to senior care companies by providing online job applications, digital caregiver training portals and client referrals. Seniors and caregivers can access senior service information "by state," view nursing home costs and star-ratings and learn about all senior care options and quality standards. For more information, please visit http://www.caregiverlist.com.