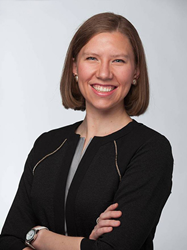 ALBUQUERQUE, NM (PRWEB) May 12, 2017
The Kirtland Spouses' Club announced it has awarded a new educational scholarship honoring local attorney Bobbie Collins of Lewis Roca Rothgerber Christie LLP. The scholarship recognizes Collins' pro bono legal services benefiting military spouses.
Collins is a military spouse and recently earned a Master of Laws in Taxation (LL.M.), making her a fitting namesake for the scholarship which will support other military spouses' educational goals, according to leaders of the Kirtland Spouses' Club.
The "Ms. Bobbie Collins Spouse Scholarship" was awarded to Central New Mexico Community College Health Information Technologies student and military spouse Jessica Rodriguez. The annual scholarship is funded with proceeds raised by the thrift shop operated by the Kirtland Spouses' Welfare Club, a Section 501(c)(3) non-profit private organization.
Located on Kirtland Air Force Base, the Kirtland Spouses' Club thrift shop raises funds to support grants and scholarship programs benefiting military dependents and spouses.
Collins has supported the Kirtland Spouses' Club for a number of years by providing pro bono legal work and acting as its general counsel in a variety of matters.
"It's very rewarding, especially since my husband, Capt. Chris Collins, was an active duty Air Force member for seven years and has also been in the Reserves for the past two years with the Air Force Research Lab," said Collins. "I know the thrift shop and social activities run by military spouses are incredibly important resources for families at Kirtland AFB."
"Bobbie has enabled us to more confidently operate the Kirtland Spouses' Club. As military spouses we know how to address the challenges of the military lifestyle and support other military spouses. As volunteers we are not knowledgeable about the law, and a lack of knowledge is always an opportunity for trouble. We are very grateful for all of Bobbie's advice to help us avoid any issues," said Kirtland Spouses' Club President Frank Capuano.
Collins has taken her support to a national level as well, as a member of the Military Spouse JD Network (MSJDN), a network of military spouse attorneys.
She will be working with the MSJDN Foundation to help set up a group of military spouse attorneys to serve as pro bono general counsel for other military spouse organizations at military installations across the U.S., and to create a guide for military spouse organizations on nonprofit governance and running private organizations in accordance with military rules and regulations for on-base activities.
She was also recently appointed as the American Bar Association Young Lawyers Division Liaison to the Committee on Legal Assistance to Military Personnel, effective in September 2017.
"I am truly so honored to be recognized with this scholarship. It was a wonderful surprise and I'm happy that it will help 'pay it forward' for other military spouses to continue their education," said Collins. "I'm also thankful to be at a firm which places such a high value on pro bono work!"
Two of the other partners in the Albuquerque office of Lewis Roca Rothgerber Christie, Dennis Jontz and Jeff Albright, are former military and supported Collins' pro bono efforts with the Kirtland Spouses' Club.
Collins' law practice at Lewis Roca Rothgerber Christie focuses on complex civil litigation, real estate and taxation law. She is also chair of the New Mexico State Bar Taxation Section, a director for the New Mexico Women's Bar Association and United Way of Central New Mexico, and a member of the New Mexico Chapter of Commercial Real Estate Women (CREW).
About Lewis Roca Rothgerber Christie LLP
Lewis Roca Rothgerber Christie LLP is an Am Law 200 commercial law firm for handling complex matters in litigation, intellectual property, business transactions, gaming, government relations and other practice areas. Lewis Roca Rothgerber Christie offices are located in Albuquerque, Colorado Springs, Denver, Las Vegas, Los Angeles, Irvine, Phoenix, Reno, Silicon Valley and Tucson. For more information, visit lrrc.com.