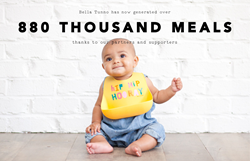 This year we should surpass 1,000,000 meals donated and look forward to helping many more children in America.
Charlotte, NC (PRWEB) May 12, 2017
Through their B1G (Buy One Give One) Initiative Bella Tunno announced today it has donated over 888,235 meals. The number represents feeding every person in the city of Charlotte - the company's home town.
The B1G Initiative was started in 2014 with the mission to help end child hunger in America. According to the USDA, more than 42 million Americans live in food insecure households, including 13 million children - representing 1 in 6 kids that are hungry. People who struggle with food insecurity are unable to consistently access enough nutritious food necessary for a healthy life. Although food insecurity is harmful to any individual, it can be particularly devastating among children due to their increased vulnerability and the potential for long-term consequences.
"When we read the statistics about children going hungry it was heartbreaking," said Michelle Buelow, President and Founder of Bella Tunno. "Our company was founded on social entrepreneurship and we knew as a company and with our amazing customer-base that we could make a significant impact on feeding children across America. Since the end of 2014, every product purchased by a customer has resulted in a meal provided to support children and families in America."
The B1G Initiative partners with Feeding America to help pull off the mission of ending child hunger in America. "We love when companies use their platform to help bring awareness to the food insecurity challenge facing Americans," said Stacey O'Malley, Feeding America Director of Development. "Bella Tunno has been a great partner and we are excited about the impact they have committed to help us end hunger in the United States".
Now in its fourth year, the B1G initiative has gone from a concept to a full-fledged movement involving Bella Tunno's family, friends, and supporters. "Our customers, sales reps, and employees are seeing the impact being made and have stepped on the gas to make a difference in every child America." said Michelle Buelow. "We appreciate the love and support they have made so we can all end childhood hunger in America. This year we should surpass 1,000,000 meals donated and look forward to helping many more children in America. Bella Tunno alone cannot end childhood hunger; however collectively we are having a tremendous impact."
About Bella Tunno
Specializing in modern, colorful and innovative baby and parenting solutions for over a decade, Bella Tunno is a leader in the world of children's accessories. Products are designed with materials that are safe for children and practical for parents. Function and fashion are equally balanced in every product resulting in a collection that is always clever and delightfully unexpected.
Sometimes preppy, sometimes sassy and always a conversation starter, Bella Tunno takes pride in great design. With a core focus on philanthropy, one meal is provided to one American child for every product sold. It's all part of Bella Tunno's commitment to Parenting with Purpose –Bella Tunno makes great products with an even greater purpose. It's a brand that stores are proud to carry and customers are proud to purchase.
To learn more, visit http://www.bellatunno.com
Contact:
Todd Buelow
todd(at)bellatunno(dot)com