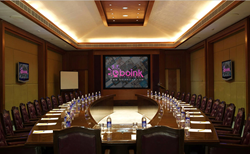 New York New York (PRWEB) May 12, 2017
Today the technical team for Bonk Live announced that the beta testing version for their new super streaming broadcasting application was thriving. The parent corporation, Boink Live streaming SRL, put out a call on April 30th, 2017, to all influencers and broadcasters globally to test out the new mobile application.
As envisioned thousands of users sent out videos to the company in an effort to become Bonkified. In the new application, Broadcasters start off as a Bonnaroo and must go through certain levels like Bonnarookie, Bonkeroony, Bonkers, Bonkai, Bonkatronz, or Bonkin, before they can become qualified to use the live on-air video commercial button.
Once a broadcaster reaches the Bonkified level, it permits the broadcaster to earn extra money by reading advertisements or playing commercials. Bonkified broadcasters earn $150 for every commercial they play or earn $50 for every advertisement they read while broadcasting their talents or just streaming their everyday life while broadcasting live.
Bonk live's new broadcasting video streaming application is growing progressively and has been adopted by users from all over the world who will be able to use the new application, that will also features the new Bonkflix channel. That Bonkflix channel always the viewers to watch live on-demand videos, watch live events, watch and interact with advertisements, and or communicate with other individual users through their new Bonk Beam person to person live video calling.
Bonk Live announced that it had more content, better payouts and a new advertising wheel that would subsidize talent to maximize their experience and remuneration. Some of the new Bonk Live users, called "Influencers", have millions of fans and viewers from all over the world following them. These new Bonk Live broadcasters are already popular on YouTube, Snapchat, Tumbler, and Instagram and the people who follow them are loyal fans that tune in to watch them daily.
The viewers purchase products on the recommendation that the broadcasters give or become interested in. Broadcasters promote the products on the mobile application by simply playing video commercials and or reading advertisements about certain products and special offers being promoted on the Bonk Live platform.
Co-Founder and key investor relations officer for Boink Live, Joe Bonica, said, "After spending a few hours following some of these Bonk Live broadcasters, it wasn't hard to understand why they are so popular and retain such loyal followings. These individuals are fun to watch and are born entertainers instinctively talented even without acting classes. These Broadcasters are becoming stars and could easily be in any major up and coming motion picture. These influencers have made it a science. They are professionals clocking up thousands of hours and gaining millions of fans who can now are cash in using the new application! Boink live is offering more than anyone mobile platform has ever offered with multiple income revenue streams. Bonk Live also gives every streamer an ASAP debit and MasterCard so to easily access the money they earn".
On Boink Live, a user needs to accrue Experience Points (XP) to progress to the next level which allows them to earn more money and diversify their content which is subsidized by big name advertisers. A VIP Host for example, which attains the Bonkified level, could show up to 50 advertiser videos to his followers per day at a remuneration of $150 a video. The video or clip will only be authorized to be shown via embedded programming codes and algorithms in the back end of the program when it detects a minimum of 500 viewers in that session. This provides value for advertisers and ensures click through ratios for broadcasters and investors in the application.
The Application program interface, (API) is a set of routines, protocols, and tools embedded within software applications. An API specifies how software components should interact. Boink live has invested heavily in ensuring that their platform and software is cutting edge, original and second to none in terms of functionality and capability. The one defining difference between this program and others is the innovation behind it. Most companies alter and copy certain parts of other apps to ensure likability and to grab wandering viewers. This program has all the hallmarks of a fresh product that challenges users to think and interact differently in order to maximize their experience and revenue income streams. The application is so big that it isn't just for social broadcasting talents or discussions.
Want to see the latest movies? Get on Bonkflix! Want to see someone at a rock concert? Get on Bonkflix live! Want to hear the latest news? Open the application! Want to see singing, dancing, people at work, people at parties and nightclubs? Sign in to the application and choose which country! Want an amazing deal on big brands? Click on a logo and watch it appear! This is a game changer. People really have no idea just how wide-ranging and endless the possibilities are with what the team at Boink live streaming has created.
This is the wave of the future when it comes to streaming all your internet and media to your mobile device or into your living room. Now anyone can watch all their favorite media directly on Bonkflix with a few clicks and broadcast live from anywhere in the world.
Bonk Live, and Bonkflix's full version for live broadcasting, watching movies, or playing games will be available in the iTunes google play store, or android store and is free to download for all mobile phones, and tablets on June 1st, 2017
Bonk live for a better life
This press release contains forward-looking information within the meaning of Section 27A of the Securities Act of the 1933 and Section 21E of the Securities Exchange Act of 1934 and is subject to the safe harbor created by those sections.