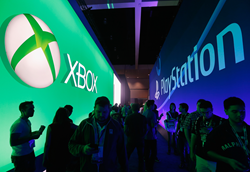 We share the idea of the global economy and wish to bring the best of the gaming industry to every part of Pakistan. I think this is a prime step toward the globalization of eCommerce
Pakistan (PRWEB) May 19, 2017
You can now buy Playstation 4 and Xbox in Pakistan. Bitcoin surpassed gold for the first time in the currency's history. It's been referred to as "digital gold" by investors. The eCommerce industry is supportive of the currency. In comparison to credit card fees, Bitcoin payments won't carry hefty transaction fees and will process faster. Bitcoin is the foundation of blockchain technology, with IBM and Microsoft acting as key vendors in the advancement, research, and testing phases.
Cellistan is becoming an on-demand game merchandising storefront that sells mobiles, tablets, anker products, gift cards and gaming systems in Pakistan. By offering Bitcoin as a payment option, consumers who didn't have access to international currencies now have access to gaming merchandise at worldwide competitive rates. Pakistanis who were previously unable to make gaming purchases from Cellistan can visit the Cellistan.com eCommerce store, the first of its kind to accept Bitcoin payments.
Offering to accept payments in the popular cryptocurrency highlights the company's forward-thinking approach and dedication to international buyers. While eCommerce stores have been slow to embrace Bitcoin currency, Cellistan takes pride in being the country's first gaming supplier to make the leap, making niche gaming products and equipment available to buyers on the world stage.
Although the company is based in Islamabad, they remain focused on a global client base. The rise of Bitcoin has been on their radar for a while, and after companies like American Express and Visa invested in Bitcoin startups, they moved forward with their plan to accept Bitcoin payments. Cellistan spokesperson Harris is proud to be one of the first eCommerce businesses to accept Bitcoin payments. "If more companies would do the same, it would bolster confidence and help move the governments one step closer to recognizing Bitcoin as a currency, opening up a new world for eCommerce businesses on the world state," he stated. He added, "Our main focus is serving fans of the industry and eliminating the borders that prohibit them from buying new products. Bitcoin enables us to claim a stake in markets where most of our competitors don't exist, giving us room to grow without limits."
When asked about the announcement, the CEO remarked, "I think it's a forward-thinking approach and it's something we're excited to be known for. We share the idea of the global economy and wish to bring the best of the gaming industry to every part of Pakistan. I think this is a prime step toward the globalization of eCommerce. " He adds, "There are emerging markets across the globe, and Bitcoin makes it possible to succeed in a competitive online marketplace. Now that we have a presence in emerging markets, we're able to reinvest in our business and supply our customers with the latest releases and systems." Starting Friday, 19th may customer can buy Xbox and PS4 in Pakistan through Cellistan's online store.
About Cellistan
Founded in Pakistan, Cellistan is an eCommerce gaming merchandise storefront that offers one-of-a-kind access to the latest products and equipment in the gaming industry. By offering the best prices and inventory selection to world buyers, Cellistan is poised to surpass larger competitors in terms of gaming inventory options and annual revenues. Cellistan started in 2016, growing market share and traction as a prominent member of the gaming distribution community in Pakistan