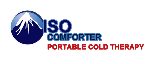 Palm City, Florida (PRWEB) May 15, 2017
IsoComforter, Inc. is introducing the most innovative and easy to use cold therapy machine with patented IsoTube design to treat specific post-surgical pain and swelling.
IsoComforter has become the industry leader in cold therapy technology by creating an innovative product that makes it convenient and comfortable for patients to apply cold therapy in the most effective manner.
IsoComforter, Inc. has introduced the most progressive and easy to use patented cold therapy machine (https://isocomforter.com/cold-therapy-machine) with the innovative IsoTube design to help treat post-operative and sports related orthopedic and muscle injuries.
IsoComforter's patented cold therapy and IsoTube pads were developed utilizing the knowledge of an orthopedic surgeon and engineer.
IsoComforter provides the ultimate in orthopedic injury and muscle relief and are constructed with top quality materials. They are applicable for every situation such as post-operative recovery, sports injuries, runners, work related injuries, all sports athletes, participants and professionals including extreme sports, medical professionals, rehabilitation facilities, physical therapists, athletic trainers and the military. For consumers, rehabilitation facilities and hospitals, IsoComforter cold therapy machines and cold therapy pads stay colder longer with a higher flow of cold therapy than anyone in the industry.
To learn more about IsoComforter's quality products, please visit our website at https://isocomforter.com and https://isocomforter.com/products.
About IsoComforter:
Since 2000, IsoComforter, Inc. has been committed to providing the highest quality product possible, through our highly skilled and dedicated employees and state-of-the-art and patented products. This commitment to quality is what makes IsoComforter stand out ahead of our competitors and enables us to deliver quality products to our customers. IsoComforter is located in beautiful South Florida and manufactures and delivers quality products nationwide.
Contact:
IsoComforter, Inc.
4215 SW High Meadows Avenue
Palm City, Florida 34990
Phone: 1-877-277-0367
Fax: 1-772-220-6645
Source: IsoComforter, Inc.