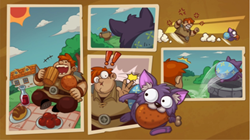 Build your skills and weapons as you dive deep in this addictively fun strategy game.
Beijing, China (PRWEB) May 14, 2017
Indie game developer Cyberlodge Interactive, and distributor SuperD, are thrilled to announce that they are bringing their iOS hit, hard-to-put-down strategy game, Downgeon Quest, to the Google Play Store. As proof of their conviction, Google is excited to feature the game on the Play Store homepage in the United States, Canada, France, Great Britain, Australia, and Southeast Asia beginning May 12.
The stage is set with our hero, Dumholf, who needs your help to battle and craft his way through the depths of a dungeon, collecting recipes and artifacts to increase power, and find new heroes to delve ever deeper underground! By passing the stages and collecting items, Dumholf can use the blacksmith and alchemy to create even better weapons and items to help him on his quest. He can't do it alone, though. Throughout the game, he can meet and recruit new heroes to fight what lurks in the depths of the dungeon. Play as any hero and build those characters, using your strategy to complete the levels. As you venture through the levels, you'll more about each of the hero's amazing stories.
Already heralded as a hit game on iOS, it has been called one of the top games of 2017 by CNET, and it's even getting the YouTube star treatment, with the likes of Clash with Cam, Lady Calysta, Chief Pat and mystic7 getting in on the action.
Downgeon Quest is available on iOS and Android.
RELATED LINKS
Facebook: http://www.facebook.com/downgeonquest/
Twitter: http://www.twitter.com/DowngeonQuest/
ABOUT SUPERD
SuperD Co. Ltd. (also known as SuperD) is dedicated to the development of comprehensive glasses-free 3D display technology solutions. SuperD's unique combination of technical disciplines add up to a comprehensive research and development offering which covers optical & applied materials research, processing and product design, IC design & electrical engineering, image processing visual effect analysis, and the development of software applications. SuperD's passionate focus on these six key R&D disciplines has resulted in over 400 patents worldwide. In 2013, SuperD was bestowed with the highest technology honor in China and was presented with China State Technology's Top Invention Award.
More information: http://www.superd.cn
ABOUT CYBERLODGE INTERACTIVE
Cyberlodge Interactive began their journey as an indie mobile developer in 2016. Before that, the team members have been working on mobile games for several years, previously works include "Eternity Warrior" and "Small Street" series. Now we focus on game with "Explore, Craft, Survive" elements, and try to put some sense of humor into it.
Press release distributed by Brian Schoenborn.