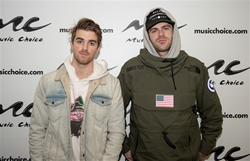 New York, NY (PRWEB) May 12, 2017
Music Choice will feature exclusive content promoting the "2017 Billboard Music Awards" across all of its properties including Music Choice On Demand, Music Channels and digital properties starting May 8 through Sunday, May 21. The "2017 Billboard Music Awards" will broadcast LIVE from T-Mobile Arena in Las Vegas on Sunday, May 21 at 8:00 p.m. ET / 5:00 p.m. PT on ABC. This year's award ceremony will showcase big performances, unexpected collaborations and much-discussed pop culture moments.
Music Choice On Demand will feature music videos, vignettes and interviews from this year's nominees and performers including Drake, The Chainsmokers, Rihanna, Bruno Mars and many more. (Go To: Music Choice > Featured).
MC's Hit List Music Channel will feature BBMAs block programming leading up to the show as well as facts and images tied to nominees. The channel will be rebranded May 20-21st.
Music Choice's Hit List Video Channel will be rebranded "Hit List: Billboard Music Awards" from May 8th until May 21st. Fans can tune in to watch flashback highlights from last year's show.
For more information about Music Choice log onto http://www.musicchoice.com
About Music Choice:
Music Choice, the multi-platform video and music network, delivers its music programming to millions of consumers nationwide through their televisions, online and mobile devices. Music Choice programs dozens of uninterrupted music channels; produces originals that feature today's hottest established and emerging artists; offers thousands of music videos; and launched Music Choice Play, the music video, lifestyle and entertainment network for Millennials. For additional information log on to http://www.MusicChoice.com |Twitter:@MusicChoice|Facebook: http://www.facebook.com/MusicChoice