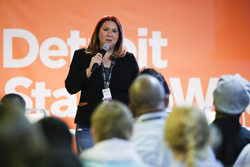 There is no other city like Detroit for starting and growing businesses
Detroit, Michigan (PRWEB) May 12, 2017
On the heels of a record breaking inaugural 2016 event, Detroit Startup Week, hosted by Techstars and powered by Chase for Business, is returning to Detroit May 22-26 to celebrate Detroit's dynamic entrepreneur community. Startup businesses of every type and stage are invited to over 100 no cost events that are designed to support startup growth and build a stronger business ecosystem in Detroit.
"In true Detroit fashion, Startup Week broke the mold when it came to Detroit for the first time in 2016," said Monica Wheat, lead of Detroit Startup Week and founder of Parallel Ventures. "With almost 4,000 attendees we surpassed all other inaugural Startup Week programs in the U.S., showing the power of the Detroit entrepreneurial community and the unmatched enthusiasm Detroiters have for growing our economy. This year's Detroit Startup Week will only gain from that momentum."
New this year is Detroit Startup Week's partnership with Detroit Entrepreneur Week, welcoming its founders to the advisory board and benefiting from their deep community relationships. This partnership will foster greater collaboration across business sectors, allowing tech companies and place-based startups to learn from and network with each other.
"Helping entrepreneurs unleash innovative ideas is a prerequisite to economic growth," said Regina Ann Campbell, managing director of place-based entrepreneurship at TechTown Detroit, and Detroit Startup Week advisory board member. "Bringing together startups and businesses from every stage and sector at this year's event will be a remarkable opportunity for serendipitous collisions and idea creation."
In order to honor the strength of diversity among Detroit businesses and convey commitment to the Detroit community, Detroit Startup Week will also feature distinct neighborhood programming each day of the event, including MidTown, Osborn, Southwest and Grandmont-Rosedale. Some neighborhood programming will even be offered in Spanish and Arabic.
As part of JPMorgan Chase's $100 million, five-year commitment to Detroit's economic recovery, the firm backs Detroit Startup Week to help deliver impact to entrepreneurs through powerful learning opportunities and exposure to investors. As a founding partner and lead sponsor, Chase for Business allows the events to be free and open to the public, providing programming and mentorship throughout the week.
Tech giant Google will offer sessions on technology and marketing, including Google My Business, Adwords and Growth Marketing for Startups. Opportunities to achieve funding will occur throughout the week and will include Quicken Loans Detroit Demo Day, where hundreds of companies will compete for a share of $1 million, and Vino & Ventures, a competition for women entrepreneurs to win seed funding and investor meetings.
Event goers will benefit from 15 learning tracks to support every facet of business development, including Technology, Entrepreneurship 101, Growth-Stage Entrepreneurship, Mobility, Music, Food-preneurship, Design/Art, Civic Innovation, Social Entrepreneurship, IoT - Internet of Things, MedTech, FinTech, Place-Based Entrepreneurship, Retail Entrepreneurship and Youth Entrepreneurship.
"There is no other city like Detroit for starting and growing businesses," said Jill Ford, special advisor to Detroit Mayor Mike Duggan on innovation and entrepreneurship initiatives at the City of Detroit. "Our strong community of long time and early stage entrepreneurs, business support organizations, and initiatives such as the Detroit Startup Week provide a family of support for Detroit businesses at every stage of their development. Detroit Startup Week continues to be an extraordinary demonstration of the power of community collaboration."
Ford is a member of the Detroit Startup Week's volunteer advisory board, which is tasked with event strategy. Other members include:

Regina Ann Campbell, Paul Riser and Marcus Harris (Techtown Detroit)
Christina Christian (Techstars)
Ted Serbinski and Lisa Seymour (Techstars Mobility)
Devita Davison (FoodLabs Detroit)
Robin Kinnie (Great Lakes Women's Business Council)
Christianne Sims (BUILD Institute)
Joanna Dueweke (ProsperUS Detroit)
Lashawna Manigault (LifeLine Consulting)
Thomas Linn and Wendolyn Richards (Miller Canfield)
Aubrey Agee (Wayne State University)
James Chapman (Rock Ventures)
Jake L'Ecuyer, Kyle Bazzy and Monica Wheat (Detroit Startup Week)
The week will offer sessions aligned with the tracks, networking opportunities, concerts, and even complimentary headshots and legal advice for entrepreneurs. Event headquarters will be at the historic Masonic Temple, known for the week as #ChaseBasecamp. Events will take place at many Detroit venues including Techtown Detroit, GEM Theater and other advisory board member locations.
This is all made possible by the generous support of title sponsor Chase for Business and event sponsors that include Quicken Loans/Rock Ventures, Google, Pixo Group, AMBR Detroit, and Parallel Ventures, with more sponsors joining daily.
"Techstars Startup Programs is an innovator in their field, launching not just Detroit's event, but Startup Week programs across the country," said Wheat. "The robust support from Chase for Business, together with the expertise and resources of 50+ other passionate and influential volunteer leads, will dial up the impact of this year's Detroit Startup Week. We are humbled by all of our partners' dedication to Detroit's business community, and excited for another exhilarating, meaningful celebration of entrepreneurship through Detroit Startup Week 2017."
Visit Detroit.StartupWeek.co for free registration, information about funding opportunities, and event offerings. New sessions will be added to the lineup on a rolling basis.
About Chase
Chase is the U.S. consumer and commercial banking business of JPMorgan Chase & Co. (NYSE: JPM), a leading global financial services firm with assets of $2.5 trillion and operations worldwide. Chase serves nearly half of America's households with a broad range of financial services, including personal banking, credit cards, mortgages, auto financing, investment advice, small business loans and payment processing. Customers can choose how and where they want to bank: 5,200 branches, 16,000 ATMs, mobile, online and by phone. For more information, go to Chase.com.
About Techstars
Techstars helps entrepreneurs succeed. Through the Techstars Worldwide Entrepreneur Network, founders and their teams connect with other entrepreneurs, experts, mentors, alumni, investors, community leaders, and corporate partners who will help their companies grow. Techstars operates four divisions: Techstars Startup Programs, Techstars Mentorship-Driven Accelerator Programs, Techstars Corporate Innovation Partnerships, and the Techstars Venture Capital Fund. Techstars Mentorship-Driven Accelerator Program supercharges success and Techstars Startup Programs inspire, educate and connect entrepreneurs. Techstars Venture Capital Fund invests in the most innovative and disruptive Techstars companies to fuel their success. Techstars Corporate Innovation Partnerships helps brands create world-changing products and services. Techstars accelerator portfolio includes more than 1,000 companies with a market cap of $8.1 billion. http://www.techstars.com
About Detroit Startup Week
Startup Week™ brings entrepreneurs, local leaders, and friends together over five days to build momentum and opportunity around Detroit's unique entrepreneurial identity. Detroit Startup Week is led by entrepreneurs and hosted in entrepreneurial spaces all over Detroit. Tracks include technology, entrepreneurship 101, mobility, music, food-preneurship, growth-stage entrepreneurship, design/art, civic innovation, retail entrepreneurship, place-based entrepreneurship, medtech, fintech, social entrepreneurship, Internet of things (IoT) and youth entrepreneurship. This Techstars initiative can be found in dozens of cities worldwide. Detroit Startup Week is powered by Chase for Business and made possible by Chase, Quicken Loans / Rock Ventures, Google, Pixo Group, AMBR Detroit, Parallel Ventures and many others. To learn more or register, go to detroit.startupweek.co.