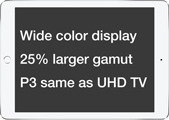 "We were delighted when Apple introduced the wide gamut displays", notes Helmut Tschemernjak, CEO of HELIOS. "This means that Document Hub can now present the most accurate color, which which is essential for many customers."
Hannover, Germany (PRWEB) May 15, 2017
HELIOS Software GmbH, a developer of cross-platform file sharing software, today released HELIOS Document Hub 2.1 for iOS, to take advantage of the wide color gamut (P3) displays of the Apple iPhone 7 and 7 Plus, and the iPad Pro 9.7". The P3 color space is the standard for the digital cinema industry, and is about 25% larger than the sRGB color space used for most web content.
Document Hub recognizes when an iOS device supports the P3 color space, and presents color-matched image and PDF document previews. The result is that users get the most accurate color available on mobile devices. This is essential for editors, brand managers, and photographers, and for product presentations to customers. Everyone will appreciate the vivid lifelike images now possible.
HELIOS Document Hub is a mobile app for iOS and Android that connects to the HELIOS WebShare "private cloud" web portal running on a company's file server. With Document Hub, mobile users can securely browse and preview server files. Server files can quickly be found via the Spotlight search system, browsed in list mode, or via a gallery view with zoomable document previews. Documents can be downloaded to Document Hub for offline use, and opened in other applications. Photos and documents created or edited on the mobile device can be uploaded to the server. File synchronization copies specified server files and folders to Document Hub for offline use.
"We were delighted when Apple introduced the wide gamut displays", notes Helmut Tschemernjak, CEO of HELIOS. "This means that Document Hub can now present the most accurate color, which is essential for many customers."
Key benefits include:

iOS P3 color display support for iPads and iPhone
ICC color-matched zoomable previews of images and PDFs
Present documents and images
Quickly access server files via Spotlight search
Browse, preview, transfer files from/to intranet server volumes
Work offline with server documents
Automatic file synchronization brings remote devices up to date
Enterprise grade security – enforces intranet users and permissions
Easy to try out, the updated Document Hub for iOS can be downloaded for free from the App Store. Search for "HELIOS Document Hub". A pre-configured login allows test driving the application using a HELIOS test server.
HELIOS WebShare and Document Hub are ideal for businesses of any size. Complete product details can be found on the website. Watch the HELIOS Document Hub videos for a quick overview, and an in-depth tour.
Smart Ideas for Better Networking
HELIOS UB64 Unbreakable Server Solutions deliver mission critical server solutions to enterprise, government, university, and prepress sites. The HELIOS Universal File Server UB64 software incorporates HELIOS EtherShare, PCShare, WebShare, Document Hub, and IT Monitor Server to provide integrated cross-platform networking for Mac, Windows, Web, and mobile clients, with advanced file and print server services, and easy remote server administration. HELIOS ImageServer, PDF HandShake and PrintPreview bring high efficiency and advanced capabilities to design, prepress and printing operations.
HELIOS products run on powerful and scalable servers including Apple macOS, IBM AIX, Linux, Oracle Solaris, and Windows systems. HELIOS products provide reliable cross-platform support for Mac, Windows, Web, UNIX, and mobile clients.
Distributors sell HELIOS products worldwide to value-added resellers who provide complete networking solutions to customers. HELIOS also works with many strategic partners that incorporate HELIOS server software to provide powerful third-party archive, asset management and workflow solutions.