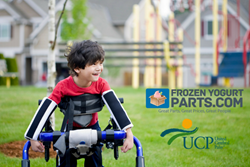 "It's important for us to give back to our community, and we know that the money we raise for UCP will go towards the amazing work they do for so many people."
Orlando, FL (PRWEB) May 15, 2017
FrozenYogurtParts.com will share fifty percent of its profits with United Cerebral Palsy (UCP) for FrozenYogurtParts.com Gives Back, a community giving event taking place May 19 and 20. In addition to raising money for UCP, FrozenYogurtParts.com will also be raising awareness among its customers of the wonderful work that UCP does throughout the United States.
"It's important for us to give back to our community, and we know that the money we raise for UCP will go towards the amazing work they do for so many people," said Dan Doromal, Customer Service Manager of FrozenYogurtParts.com.
UCP educates, advocates and provides support services to ensure a life without limits for people with a range of disabilities and their families. There is no cure for cerebral palsy, and there is no single therapy that works for every child who has cerebral palsy. However, by working with a team of healthcare professionals, a child's specific needs can be identified and an appropriate treatment plan can be developed. Many children with cerebral palsy go on to enjoy near normal adult lives if their disabilities are properly managed.
Giving back is a common theme among the frozen dessert restaurants that depend on FrozenYogurtParts.com for high quality and low priced parts and supplies. As part of that community, FrozenYogurtParts.com is also committed to giving back. Since FrozenYogurtParts.com serves businesses throughout the United States, it only seemed appropriate to give back to an organization with affiliates throughout the United States, providing services and support to communities in every state.
About FrozenYogurtParts.com
FrozenYogurtParts.com provides frozen dessert businesses with a more efficient way to get the parts they need for their soft serve machines. FrozenYogurtParts.com manufactures high quality, aftermarket, Original Equipment Manufacturer (OEM) replacement parts for the soft serve machine industry.. Rather than having to call a OEM distributor's parts department , our customers simply order their parts online quickly and efficiently, 24 hours a day, seven days a week.
About United Cerebral Palsy
UCP and its nearly 70 affiliates have a mission to advance the independence, productivity and full citizenship of people with a broad range of disabilities by providing services and support to more than 176,000 children and adults every day—one person at a time, one family at a time. UCP works to enact real change—to revolutionize care, raise standards of living and create opportunities—impacting the lives of millions living with disabilities. For more than 60 years, UCP has worked to ensure the inclusion of individuals with disabilities in every facet of society. Together, with parents and caregivers, UCP will continue to push for the social, legal and technological changes that increase accessibility and independence, allowing people with disabilities to dream their own dreams, for the next 60 years, and beyond.