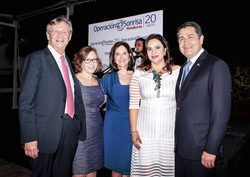 Tegucigalpa, Honduras (PRWEB) May 12, 2017
Operation Smile Honduras announced the eradication of the backlog of people living with untreated cleft conditions at an event hosted by President Juan Orlando Hernandez and First Lady Ana Garcia de Hernandez. Operation Smile, Inc.'s Co-Founder and CEO Dr. Bill Magee attended the May 11 event, celebrating 20 years of providing free surgery and comprehensive cleft care to more than 4,700 Honduran patients.
"Our goal in every country where we work is to ensure that every citizen with a cleft has access to care. We are thrilled to say we have achieved this goal in Honduras with support from incredible public and private partners, donors, and volunteers," said Dr. Magee, who founded the international organization in 1982 with his wife Kathy.
Since 1997, Operation Smile Honduras has made significant strides towards increasing access to safe surgery and tackling the backlog of untreated patients through medical missions in cities across the country. It is recommended that babies born with cleft receive corrective surgery within the first two years of life for the best recovery results. However, many low- and middle-income countries, like Honduras, have a backlog mostly due to the lack of access to safe, affordable and timely surgery leaving children to suffer with their cleft condition for much longer.
In 2014, Operation Smile Honduras set out to eradicate the backlog of an estimated 1,000 untreated cleft patients in Honduras. Today, the median age of patients that Operation Smile sees are within target age ranges for well-timed cleft surgery. As a result of the eradication strategy and innovative patient advocacy programs, any child born with a cleft in Honduras can be connected to Operation Smile immediately to receive timely surgical care.
At the event, the president and first lady announced their support for Operation Smile's global UNTIL WE HEAL campaign that aims to mobilize new partners in government and civil society, to join in creating long-term solutions to increase access to safe surgery and eradicate cleft. Operation Smile Honduras has joined the campaign along with other Operation Smile Foundation countries that are engaging their ministries of health and collecting thousands of signatures from supporters throughout the year. This year the Operation Smile care center in Tegucigalpa will be renovated, enabling local medical volunteers to offer year-round comprehensive cleft care including surgery, post-operative care, dental and orthodontics care, pediatrics care, speech therapy, audiology, and psychology consultations.
"Operation Smile won't stop until we heal every child with cleft and we are extremely proud of what has been accomplished in Honduras," said Kathy Magee, President and Co-Founder of Operation Smile, Inc. "It is through the cleft child that the access to safe surgery can be advanced around the world."
To learn more, sign the pledge, or get involved, visit http://www.UntilWeHeal.org