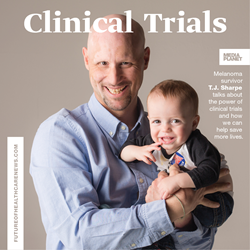 Only around 32% of drugs have a probability into making it to phase 3 trials, and only 1 in 10 drugs actually make it to the market.
New York, NY (PRWEB) May 12, 2017
Mediaplanet today announces the launch of this May's edition of "Clinical Trials." This campaign will educate doctors, physicians, nurses, and allied healthcare professionals on the benefits of conducting a clinical trial, while honing in on the proper and most effective ways to improve the process, ultimately leading to an increase in completed trials, treatments, and live saving discoveries.
Only around 32% of drugs have a probability into making it to phase 3 trials, and only 1 in 10 drugs actually make it to the market. This means that the time, effort, and dollars that are being spent (800k-1.4B) for clinical trials are not panning out as plan, which causes hesitation in their conduction. There are several factors leading to the incompletion of a clinical trial. Ensuring the clinical trial is planned properly, leads to a higher success rate of the trial.The need for more participants and better planned clinical trials is crucial.
The print component of "Clinical Trials" is distributed within today's edition of USA Today in New York, Boston, Washington/Baltimore, Phoenix, and the Carolinasmarkets, with a circulation of approximately 250,000 copies and an estimated readership of 750,000. The digital component is distributed nationally, through a vast social media strategy, and across a network of top news sites and partner outlets. To explore the digital version of the campaign, click here.
Cancer survivor and clinical trial activist T.J. Share graces the cover of the print publication. Through an exclusive interview on the interior, T.J. shares his story on how participating in clinical trials saved his life. T.J. talks about the power of clinical trials and how others can educate themselves on these life-saving studies. T.J. encourages all to consider clinical trials as an option, he says "when it comes down to it, we are all patients at some point, so we should know what all of our options are before making a decisions."
This campaign was made possible with the support of the Center for Information on Clinical Research Participation (CISCRP), Association of Clinical Research Professionals (ACRP), Coalition for Clinical Trials Awareness(CCTA), Clinical Trials Transformation Initiative (CTTI), QST Consultations, TransCelerate BioPharma Inc., Biogen, Merck, Pfizer, Janssen, CureForward, and PerkinElmer.
About Mediaplanet 
Mediaplanet specializes in the creation of content marketing campaigns covering a variety of industries. We tell meaningful stories that educate our audience and position our clients as solution providers. Our unique ability to pair the right leaders with the right readers, through the right platforms, has made Mediaplanet a global content marketing powerhouse. Our award-winning stories have won the hearts of countless readers while serving as a valuable platform for brands and their missions. Just call us storytellers with a purpose. Please visit http://www.mediaplanet.com for more on who we are and what we do.
Press Contact:
Taylor O'Brien
taylor.obrien(at)mediaplanet.com
(914) 582 4944