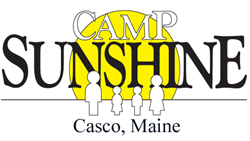 CASCO, Maine (PRWEB) May 12, 2017
On May 6, Miss Maine Marybeth Noonan, was escorted to the Brunswick High School Senior Prom by Jack Parker. Marybeth met Jack at Camp Sunshine last fall where she visited during the Camp's annual brain tumor session. Jack, now 19, was diagnosed with a brain tumor 2 weeks before his 2nd birthday and was attending Camp Sunshine with his family as a reprieve from the rigorous of recovery from pediatric cancer.
In support of the couple, internationally renowned dress designer, Ashley Lauren Kerr, provided a prom dress to Marybeth, while Wendy Herrick Floral Designs provided a tuxedo to Jack. The two were driven in style to the prom in a town car, donated by Portland Limo.
To top off the night, Jack was nominated Prom King by his peers.
Camp Sunshine is an award winning year-round lakeside retreat in Casco, Maine that provides children with life-threatening illnesses and their families a free week of respite, recreation, and rejuvenation. Camp Sunshine makes an effort to celebrate stories like Jack's as a way of letting other families know that Camp is available to them free-of-charge.
WCSH-TV, based in Portland, Maine, captured Jack and Marybeth's Prom night together and shared Jack's story at Camp Sunshine.