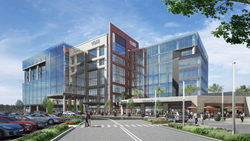 Any great urban area has a place to work, be entertained, dine, shop, and just to gather. Our exciting new anchors, retailers, restaurants and reconfiguration will turn The Shops at Willow Bend into a 24/7 district that will become the heart of Plano
CHICAGO (PRWEB) May 17, 2017
A Class A office building, luxury fitness center Equinox and just the fourth Crayola Experience in the U.S. are the latest additions to the $125 million reinvention of The Shops at Willow Bend into a multi-use commercial district, announced owner and manager Starwood Retail Partners.
The new anchors will join the previously announced North Texas Performing Arts' Plano Children's Theatre at the Willow Bend Center for the Arts, scheduled to open this summer, as well as dining options in a new Restaurant Row.
"Any great urban area has a place to work, be entertained, dine, shop, and just to gather. Our exciting new anchors, retailers, restaurants and reconfiguration will turn The Shops at Willow Bend into a 24/7 district that will become the heart of Plano and all of North Dallas," said Michael J. Powers, Senior Vice President, Head of Leasing at Starwood Retail Partners,
The seven-story, 200,000-square-foot Class A office tower will connect to the mall, located between the food court and Forever 21. The building will accommodate up to 800 employees and is being designed and constructed in collaboration with Encore Commercial LLC, a commercial real estate investment company based in Dallas.
"We are proud to be the developer of such a unique and extensive expansion that plays such an integral part in all the growth and excitement happening all over North Dallas," said President of Encore Commercial Nicholas Barber.
Opening in spring 2018, the 60,000-square-foot Crayola Experience will include The Crayola Store, a 5,000-square-foot store featuring the world's largest selection of Crayola products and unique souvenirs, such as plush toys and apparel. At Crayola Experience Plano, guests will enjoy classics such as naming and wrapping their own Crayola crayon (Wrap It Up!), starring in their own coloring page (Be a Star), using their touch to bring art to 4-D life (Color Magic), creating melted wax spin-art (Drip Art) and learning how crayons are made in a live Factory Show, as well as some new experiences that will debut in Texas.
Now under construction, the 35,000-square-foot Equinox will offer guests unparalleled service, including Equinox-branded best-in-class programs such as strength and cardio training, studio classes, personal training, spa services and products, apparel, and food and juice bars. In a unique move that will set Equinox apart in this affluent, sophisticated market, a number of classes will be offered on the roof.
The new anchors join additions to a growing dining district with recently announced: Knife, a steakhouse by celebrity chef John Tesar; the Mexican Bar Company, a concept debuting in Texas at Willow Bend; and Dallas favorite Terra Mediterranean, named D Magazine's Best Mediterranean Restaurant for multiple years. In addition, 10° F Rolling Ice Cream brings a trendy Thai rolled ice cream taste sensation to Texas.
All initiatives are part of The Shops at Willow Bend's first major renovation and expansion in its 15-year history. Starwood Retail Partners acquired the 1.2 million-square-foot project in 2014. Located at the epicenter of North Dallas, with easy access to three major highways, and significant frontage off the North Dallas Tollway, the reimagining will enable the mall to provide guests with an enhanced variety of unique shopping, dining and entertainment experiences. Construction highlights include a welcoming new grand entrance facing the Dallas North Tollway with valet drop-off and pickup; exterior amenities including dramatically enhanced lighting, fountains, comfortable soft seating and fire pits; and a full interior remodel that reflects a more contemporary aesthetic.
"Plano already is home to many Fortune 500 companies, and its population of affluent young professionals continues to grow," Powers said. "With these new additions and more to come, The Shops at Willow Bend will become more than just their favorite place to shop; it will be the place they live their lives."
Construction began in May 2016 and will be completed in phases, starting in mid-2017 and continuing through 2018. The center will remain open throughout construction. Its two levels feature more than 125 stores and restaurants, including Neiman Marcus, Dillard's, Macy's, Bath & Body Works, Crate & Barrel, Forever 21, Foot Locker, H&M, Anthropologie, California Pizza Kitchen and Sonic. For more information on The Shops at Willow Bend, visit ShopWillowBend.com.
###
ABOUT THE SHOPS AT WILLOW BEND
The Shops at Willow Bend is located at 6121 W. Park Blvd in Plano, Texas; hours are Monday – Saturday: 10 a.m. – 9 p.m., Sunday: 12 p.m. – 6 p.m. Restaurants and department store hours may vary. For more information, visit ShopWillowBend.com like us on Facebook or follow us on Twitter and Instagram.
ABOUT STARWOOD RETAIL PARTNERS
Starwood Retail Partners is not your father's – or grandfather's – landlord. We're acquiring, redeveloping, managing, leasing and operating the next generation of shopping centers for a new generation of shoppers: active, exciting community cores for an increasingly interconnected consumer.
Owned by Starwood Capital Group, we have grown our portfolio to 30 centers in 16 states across the United States since our founding in 2012, working with top-tier investment firms to help finance our properties, and employing the talents and skills of the most creative professionals in the business to maximize their value. We build solid relationships and partner with our retailers, and invest in innovative technologies that help our properties become more productive, our stores more exciting and our shoppers more engaged.
We understand that ultimately, as an owner, as an employer and as a citizen of our communities, it's not about property, it's about people. http://www.starwoodretail.com