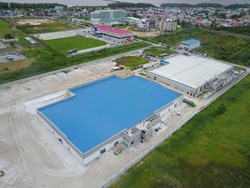 Known as one of the largest contact center campuses in the world, our newest facility doubles the campus operational footprint, adding 55,000 square feet and 992 more workstations.
(PRWEB) May 15, 2017
Qualfon, a mission-driven business process outsourcing (BPO) company and global provider of contact center services, will hold a celebration and ribbon cutting ceremony to mark the expansion of its Providence contact center campus in Guyana, South America. On Wednesday, June 7th at 9 AM, Qualfon will unveil the second of three contact center facilities planned for the campus and highlight the growth of its mission to "Be the best BPO. Make people's lives better." When complete, the campus will sprawl 287,000 square feet. Qualfon continues to invest in Guyana because its native-English-speaking population and competitively priced services are unique in the global outsourcing market.
"Known as one of the largest contact center campuses in the world, our newest facility doubles the campus operational footprint, adding 55,000 square feet and 992 more workstations. We're very excited and honored to lead the Guyana BPO industry growth through our mission and will continue to showcase this country as a premier outsourcing destination," said Mike Marrow, CEO, Qualfon.
The event is expected to draw crowds and dignitaries. The Honorable Minister of Business, Dominic Gaskin, and the Honorable Minister of Public Telecommunications, Catherine Hughes, are invited to be key speakers during the ceremony. As part of the event, attendees will hear from Kirk Laughlin, Founder and Managing Director of Nearshore Americas, as well as Qualfon senior leaders. Members of the media are invited, and many of Qualfon's community partners and employees will also be in attendance. After the ceremony, attendees are invited to stay for a reception and guided tours of the campus.
"For the past 12 years, Qualfon and Guyana have partnered to establish the BPO industry locally, shining a spotlight on Guyana's convenient nearshore location and educated, native-English-speaking population. Together, we have brought in industry analysts and investors, and now Guyana has a strong foothold and reputation in the market. Qualfon's campus expansion will further fuel that growth, offering more career opportunities and Mission Office services that make people's lives better," added Marrow.
Client Programs Continue to Grow
Client growth has spurred a positive 2017 outlook for the Qualfon campus. Existing client accounts expanded by approximately 250 full-time positions during Q4 2016, and growth is expected to continue with an estimated 800 new jobs added through the end of 2017. The growth comes largely from customer care programs serving clients in the technology and eCommerce industries.
"Clients are pleased with the top-level performance and leadership at Qualfon Guyana, so they are making additional investments in our partnership, expanding Qualfon's customer service programs with more employees, explained Mark VanderPloeg, Site Director, Qualfon Providence Guyana.
Unique Features: Eco-Friendly, Interfaith Chapel, Healthcare Clinic
The multi-building contact center campus is located on a 10-acre lot at East Bank Demerara, behind the National Stadium and near top hotels and Georgetown's newest mall. When completed, it will be one of the largest contact center campuses in the world and distinctive in the industry because of its "green" features. Solar power panels, green building materials, a rain water collection system, and an onsite wastewater treatment facility make the campus environmentally sustainable.
With the opening of the new contact center, the campus now has two separate operations buildings spanning a total of 112,000 feet and providing 2,014 workstations in total. The new center is already in operation with 80 employees serving client needs. The first contact center opened in March 2015. Both buildings include healthcare clinics, training centers, and cafeterias, and the new center has a (temporary) interfaith chapel. Construction plans also include a standalone interfaith chapel and a third 55,000 square-foot contact center.
Making Peoples' Lives Better
At the campus, Qualfon's Mission Office serves the needs of employees, their family members, and the local community:

Qualfon University: Free educational courses, high school diplomas, accredited micro-degrees
Leadership Academy: Management training prepares employees for career growth
Medical Services: Nurses on staff, basic care, vitamins, maternity support
Milk Subsidies: Milk provisions for children of employees and local orphanages
Worksite Chaplains: Confidential caregiving, counselling services, life planning, visitations
Community Service: Volunteer opportunities that support non-profits, children's homes, schools, the homeless and elderly, and others
Qualfon in Guyana
Qualfon was a first-mover to the Guyana marketplace back in 2005. Today, it is the largest private employer in Guyana with thousands of employees. The addition of the new contact center campus makes modern, enterprise-class facilities standard for Qualfon Guyana. With an average tenure of 21 months for agents and 63 months for supervisors, Qualfon Guyana is recognized for providing high-quality services at a low cost to serve.
"Qualfon's largest market is serving customers in the United States, and Guyana understands Americans. They speak the same native-English language and watch the same TV. In addition, they have a diverse and welcoming culture that is unique in the world," said Marrow. "That's why we have decided to heavily invest in Guyana and build one of the largest contact center campuses in the world."
Executives also credit support received from the Guyanese government, Go-Invest, the Private Sector Commission, the Guyana Manufacturing & Services Association, the Consultative Association of Guyanese Industry, and the Guyana Business Coalition on Health Awareness, whose partnerships have helped Qualfon justify further expanding its presence in Guyana.
About Qualfon
Qualfon is a mission-driven BPO company and a global provider of contact center services and back-office processing. With experienced BPO leadership and a strong track record of business growth dating back to our founding in 1995, Qualfon helps companies reduce costs and deliver superior customer experiences. Today, we have approximately 13,000 employees serving international brands across many industries, and our intelligent outsourcing locations span the United States, the Philippines, Guyana S.A., and Mexico. Qualfon's mission to "Be the Best BPO, Make People's Lives Better" means we invest in our people and, in return, they take better care of you and your customers. Qualfon's employee retention regularly exceeds the industry average, which creates a people-driven value chain: Our employees stay longer, providing you a higher quality service at a lower price. http://www.Qualfon.com