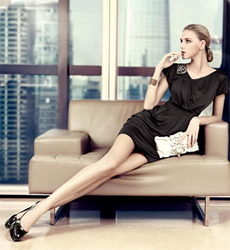 A loving, fulfilling relationship begins with two incredible people...so we always like to make sure we have those components in place when considering new applicants...
New York, NY (PRWEB) May 17, 2017
For some people a million dollars is a lot of money...and for some it's just a drop in the ocean. Presumably, for the more affluent segment of members utilizing the exclusive matchmaking services of SEI Club, it's the latter.
SEI Club is a private matchmaking and dating club for some of the world's most well-known movers and shakers. Members include familiar, established fashion models, CEO's, career professionals, entrepreneurs, nobility and more. It's the not-so-secret dating secret of the ultra-rich.
Says a club spokesperson, "All SEI Club members who participate in the club's global, private matchmaking services are seeking a positive, meaningful relationship with someone who is compatible and a great fit in all the right ways…Some at the same age and accomplishment level, some at different ages and accomplishment levels. They all have in common their search for a positive, meaningful relationship. They are all on a quest, like Rupert Murdoch for example, and many, many others, such as Sean Penn or Scarlett Johansson, to find their ideal lover, partner and friend."
With memberships from 5,000 to 300,000 and now, over one million, there's "truly something for everyone who's accomplished"...from the budding professional seeking love to the established global leader who, interestingly, seeks the same; a happy, healthy, loving relationship that makes both partners better, more fulfilled people. SEI Club matchmaking provides matchmaker NYC services for eligible singles seeking to find someone their same age as well as those who prefer to meet and date someone of a greater age difference.
The club's new million dollar membership was created for those members who did not wish to have any time or introduction restrictions whatsoever when dating through the club. In response to demand, SEI Club now provides unlimited introductions for an unlimited time-period with the club's million dollar + membership. Says the clubs spokesperson, "It's the perfect choice for some members and other members are happy with, and find what they're looking for, with an entry-level membership at $5,000+...again, there is something for everyone."
With an application acceptance rate hovering near 35% this may be the most exclusive dating club...in the entire world. Says a club spokesperson, "One of the things we always consider when reviewing a compelling candidate: Is this person not just attractive and accomplished, but also, even more importantly, at a happy, healthy, positive place in their lives overall...a place in which they can enjoy a healthy, loving, supportive relationship with the right person when they find that person?...And if the answer is yes they are likely a great fit."
Says the spokesperson, "A loving, fulfilling relationship begins with two incredible people...so we always like to make sure we have those components in place when considering new applicants. It's designed to ensure a positive experience for everyone."
With a high success rate and a rave reputation among the more exclusive, established few, their proprietary, proven method must work. "Our process is solid and reliable. We match members based on everything they are seeking in love, a relationship, and life. It is our honor and pleasure to facilitate meaningful relationships for such exceptional gentlemen and women."
As a highly exclusive matchmaking and dating club, membership is required to participate. More information along with an application for membership can be found at the club's website: http://www.seiclub.com
Additional club info regarding their membership guarantees:
SEI Club Guarantees
----
Matchmaker NYC