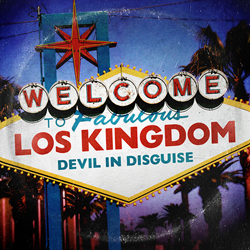 Los Angeles, CA (PRWEB) May 12, 2017
40 years after the world lost the King of Rock & Roll, Los Kingdom is paying tribute to Elvis with their new EP, "Devil In Disguise" - featuring six completely reimagined renditions of Elvis Presley classics. "Devil In Disguise" is available at all digital retailers today (Friday, May 12, 2017).
Los Kingdom is comprised of Los Angeles-based singer/songwriters Arielle Verinis and Dave Green. With Arielle's East Coast roots and Dave's British upbringing, the duo adapts historic American songs for today's Alt-Americana music scene. Following their debut album of historic spirituals, "The Patron Saint," they found inspiration during a tour stop at Graceland last summer. The duo's latest recordings cover some of Elvis Presley's most popular songs including "Love Me Tender," "Devil In Disguise" and "Can't Help Falling In Love," rearranged with Beatle-like harmonies and Johnny & June style duets that will certainly draw comparisons to contemporaries like The Civil Wars. It was really important for them to keep the arrangements and production stripped down and intimate, which has been captured in these emotional interpretations.
The first of several music videos has just been released. Check out the "Devil In Disguise" video here: http://bit.ly/LKdevil
A media tour is planned for late May with stops in Los Angeles, New York City, Memphis, TN and Tupelo, MS, where Los Kingdom will be performing live at Tupelo Elvis Festival on June 1st & 2nd, an annual celebration drawing thousands of Elvis fans from around the world to the birthplace of Elvis.
Los Kingdom (https://www.loskingdom.com) is managed by Brian Klein at iminmusic management (home to the platinum-selling pop sensation Fitz & The Tantrums).
"Devil In Disguise" Track Listing:
Can't Help Falling In Love
Love Me Tender
Don't be Cruel
Devil In Disguise
Good Luck Charm
It's Now Or Never
iTunes: http://bit.ly/LosKingdomEP
Spotify: http://bit.ly/DiDLosKingdom
Review copies and Interviews are available upon request.