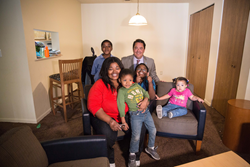 We are humbled by the extraordinary strength shown by this family, and truly honored to help four young children get a great night's sleep, every night.
DETROIT, Mich. (PRWEB) May 15, 2017
A local family is sleeping well after several metro Detroit organizations came together to help get them back on their feet. Art Van PureSleep, the Detroit Lions and The Children's Center of Wayne County teamed up to make a lasting impact on the life of Jennifer McCrackin and her four children.
The McCrackin family recently transitioned from a shelter to a new apartment. Previously, they had lived in a building that was poorly managed, and eventually condemned due to a bed bug infestation. The family was forced to move and leave everything behind. The working mom and her school-age kids lost everything, including their furniture, clothing, toys, and even photos.
As part of the improvements taking place at Ford Field, furniture from the renovated stadium suites was donated to nearly two dozen families throughout Detroit, including the McCrackin's, whose children have been clients at The Children's Center for several years. As chairs, tables, couches and other items were being delivered into the McCrackin's new apartment, the team noticed something missing: beds.
Without proper sleep, children may be inattentive, impulsive and irritable, which can lead to problems learning in school, getting along with others, and defiant behavior.
"Poor sleep affects the entire family," said Dr. Angela Tzelepis, Senior Director of The Children's Center's Behavioral Sleep Clinic. "Children that are sleep deprived often experience behavior and emotional problems, impaired learning and school performance, and even weight gain."
Good sleep is essential to good health, and the team was determined to ensure the McCrackin family had the best possible environment to heal, grow and thrive. Thankfully, Art Van PureSleep stepped in. Just before Easter, four twin beds and a full-size bed were delivered to the family's home.
"Somewhere, somehow there are blessings out there. You have to keep looking and working; keep going, keep trying, no matter what comes at you," said Ms. McCrackin. "I want to thank everyone who came together to help my family, and hope this inspires others to consider all the resources and organizations that are available and want to help."
The McCrackin family is now back into a routine with school, work and visits to The Children's Center. Ms. McCrackin is blown away by the support she and her children have received, and hopes to pay it forward.
"Working with the many charities and nonprofits we have built relationships with over the years, Art Van PureSleep is proud to help distribute donated furniture to those in need" said Diane Charles, VP of corporate communications for Art Van Furniture. "We are humbled by the extraordinary strength shown by this family, and truly honored to help four young children get a great night's sleep, every night."
The Detroit Lions organization supports The Children's Center in a variety of ways: sponsor of the annual AutoGlow event at Ford Field; table captains for the Power of Possibilities breakfast; providing VIP experiences for children and families at NFL games; and donating merchandise for the Holiday Shop.
Offering 28 services, The Children's Center provides an integrated approach to community mental health that treats the whole child and the whole family, so they can heal, grow and thrive.
About The Children's Center    
Since 1929, The Children's Center has been empowering children and families to shape their own futures in Midtown Detroit. Each year, nearly 7,500 children and families receive evidence-based therapeutic mental and behavioral health services from The Children's Center to help them overcome emotional and intellectual challenges, trauma from abuse, neglect and poverty. Learn more about The Children's Center and our comprehensive array of services at http://www.thechildrenscenter.com or call (313) 831-5535.
About Art Van Furniture
Art Van Furniture is the Midwest's largest furniture retailer and America's largest independent furniture retailer. The company operates more than 100 stores throughout Michigan, Ohio, Indiana, Illinois and Iowa, including freestanding Art Van PureSleep mattress stores, Art Van Flooring stores, and Art Van Furniture franchise locations, as well as a full-service e-commerce website. Founded in 1959, the company is headquartered in Warren, Michigan. Visit artvan.com for more information.