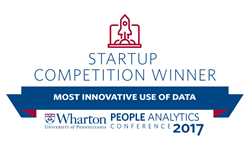 Los Angeles, California (PRWEB) May 15, 2017
Fama, a big data software company that offers social media screening, received the award for "Most Innovative Use of Data" at the Wharton People Analytics Conference. The conference differs from many people analytics conferences in that it seeks to bring in diverse voices doing cutting edge work in the field. The conference attracts vendors, HR teams and academics seeking to learn more about new developments and technologies in people analytics. The conference took place in Philadelphia between March 30 -31 2017.
According to the Wharton People Analytics Conference website, the startup competition "provides a platform for emerging and promising entrepreneurial ventures in people analytics." 11 startups were selected from a wide pool of applicants to attend and present at the conference. A judging panel of noted academics and industry experts evaluated the startups on a range of criteria and then presented awards for Most Impactful, Best User Experience, and Most Innovative Use of Data.
"This award is a testament to the hard work of our engineers, data scientists, and product visionaries." said Ben Mones, Fama's Founder and CEO. "We are grateful to the team at Wharton for the opportunity to participate in the event, and for the validation of our mission at large. We will use this recognition as a rallying point to continue to push the envelope on what is possible with people data."
Although 60% of companies are now using social media in their candidate screening process, most of these companies are still doing it manually in-house. Fama is the first company to automate this process to help companies not only save time and money but also offer comparative insights needed to make this data actionable.
About Fama 
Fama (fama.io), based in Los Angeles, is software that automates social media and web analysis to drive smarter hiring decisions and assist in complex investigations. The goal is to reduce the incidence of mis-hire/re-hire – both at the executive and entry level – by leveraging the world's most content-rich data stream. Fama works by using artificial intelligence to pick up on the 'red flags' and 'green flags' that exist within a person's online persona. Employers can zero in on the needles in the social media haystack: red flags might include references to abusive behavior, while the 'green flags' reference a person's passion for charity work.  
http://www.careerbuilder.com/share/aboutus/pressreleasesdetail.aspx?ed=12/31/2016&id=pr945&sd=4/28/2016