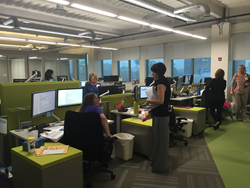 Peoria, IL (PRWEB) May 12, 2017
Modern Healthcare, a leader in health care business news, research and data has ranked OSF HealthCare as having one of the top 10 innovation centers in the U.S. OSF Innovation is listed among other world-renowned centers at Cleveland Clinic, Johns Hopkins and Mayo Clinic.
Launched in 2016, OSF Innovation is a multidisciplinary innovation center focused on internal and external innovation for the transformation of health care.
"We are proud to see Modern Healthcare recognize our progress as a leading health care innovation program," said Jeffry Tillery, MD, Senior Vice President and Chief Transformation Officer for OSF. "This speaks to our vision of transforming health care into value for the patients and communities we serve as well as the work of an extremely talented team that works tirelessly to integrate innovation within our health care ministry."
According to Modern Healthcare's "By the Numbers" research, OSF Innovation ranked #2 out of 10 health care systems that are incubating startups. The recognition is based on the number of startup companies OSF HealthCare is working with to test ideas, offer mentorship, feedback and help with troubleshooting. The organization collaborates with about 50 entrepreneurial companies.
The health care publication also listed OSF Innovation #6 out of 10 health care systems accelerating innovations. The ranking is based on the number of innovation projects being tested internally. OSF HealthCare boasts more than 50.
"The unsustainable nature of health care today is what is driving our innovation agenda," said Michelle Conger, Chief Strategy Officer for OSF. "We believe working together with startups and piloting new ideas can help us find solutions to some of health care's biggest challenges."
OSF Innovation employs a variety of approaches to innovation such as improving processes and functions to serve patients; mentoring, networking and partnering with external companies working on solutions to health care problems; investing in start-ups through OSF Ventures; and developing and testing internal and external ideas that could revolutionize how health care is delivered.