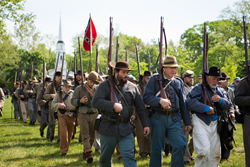 Dearborn, Mich. (PRWEB) May 15, 2017
This Memorial Day Weekend, guests are invited to become a part of living history as Union and Confederate re-enactors, bustling camps and period music enliven Greenfield Village for Civil War Remembrance, May 27-29. Get inspired by the most authentic display of Civil War re-enactors in the country as they immerse visitors in life during wartime. On Saturday, May 28th, the programming for Civil War Remembrance will be extended until 9pm.
Guests can learn more about the resourcefulness of soldiers and watch Union and Confederate re-enactors take part in cavalry, artillery firing and tactical demonstrations at Walnut Grove. Throughout the weekend, the Village Pavilion becomes the designated Civil War Resource Center. Inside guests can take part in special presentations from historians, see an exhibit of fashions from that time period, and look through military history from original Army and Navy artifacts. The original poem "Last Camp", written in 1872 by J. Wesley Benedict of Port Huron, Michigan, will also be on display inside the pavilion from the collections of The Henry Ford.
On Saturday evening, Jay Ungar and Molly Mason, one of the most celebrated duos in the American acoustic music scene, will be taking the Town Hall stage for a special performance. The duo has been featured on "CBS Good Morning," "Prairie Home Companion" and featured in Ken Burns documentary "The Civil War." The Dodworth Saxhorn Band, the Picks & Sticks Stringband, the Dodworth Duo and the North Star Gospel Chorale also will perform throughout the weekend.
On Monday, The Henry Ford will host a Memorial Day Commemoration ceremony on the Village Green starting at 12pm and will participate in a National Moment of Silence at 3pm signaled by the Armington & Sims shop whistle.
Admission to Civil War Remembrance is free with membership or $27 for adults, $24.50 for seniors 62 and up and $20.25 for youth 3-11. Children two and under are free. For more information, call (313) 982-6001 or visit https://www.thehenryford.org/current-events/calendar/civil-war-remembrance/.
About The Henry Ford
The Henry Ford in Dearborn, Michigan is an internationally-recognized history destination that explores the American experience of innovation, resourcefulness and ingenuity that helped shape America. A national historic landmark with an unparalleled Archive of American Innovation, The Henry Ford is a force for sparking curiosity and inspiring tomorrow's innovators. More than 1.7 million visitors annually experience its five attractions: Henry Ford Museum, Greenfield Village, The Ford Rouge Factory Tour, The Benson Ford Research Center and The Henry Ford Giant Screen Experience. A continually expanding array of content available online provides anytime, anywhere access. The Henry Ford is also home to Henry Ford Academy, a public charter high school which educates over 500 students a year on the institution's campus. In 2014, The Henry Ford premiered its first-ever national television series, The Henry Ford's Innovation Nation, showcasing present-day change-makers and The Henry Ford's artifacts and unique visitor experiences. Hosted by news correspondent and humorist, Mo Rocca, this Emmy®-winning weekly half-hour show airs Saturday mornings on CBS. For more information please visit our website thehenryford.org.